The East African portion of the 2Africa subsea cable is now going live.
Vodacom said this week the 2Africa cable has officially launched in Mozambique.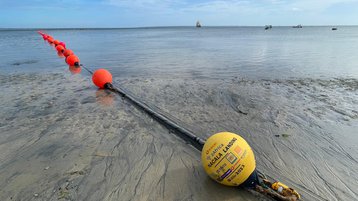 The launch included the opening of a new data center in the city of Nacala-Porto by project partner, Master Power Technologies. Details on the facility weren't shared.
"The landing of the 2Africa submarine cable reaffirms Vodacom's commitment to boost digital inclusion in Mozambique and the African continent by increasing access to quality internet services and investing in network infrastructure to support this," said José Mendes, managing executive, Vodacom Business, Mozambique.
"This is an ambitious challenge for which we cannot achieve results alone. Collaboration between other industry players and the public sector is key, to enable the connection of more citizens across the continent."
The cable has two landing points in Mozambique, also landing in the capital Maputo in February.
Likewise, the Airtel 2Africa Marine Cable Centre in Dar es Salaam, Tanzania, was launched at an event this week attended by President Samia Suluhu Hassan.
Meta, along with Telecom Egypt, China Mobile International, MTN GlobalConnect, Orange, STC, Vodafone, and the West Indian Ocean Cable Company (WIOCC) announced the 2Africa cable, that would circle the African continent, back in 2020.
Work laying the East African portion of the cable started in late 2022, with the most recent landing made at Port Said in Egypt in April 2023.
At 45,000km, it is the world's largest subsea cable and will connect 33 countries with 46 landing points across Africa, Europe, and Asia when it is complete. Alcatel Submarine Networks (ASN) is responsible for manufacturing and deploying the 16-fiber pair, 180Tbps cable, which is due for final completion in 2024.