German data center operator e-shelter has announced plans to open its first data center in Amsterdam, the Netherlands, by early 2019.
The facility near the Schiphol airport will be built in four phases, each delivering 4,000 square meters (43,055 sq ft) of technical space. It will offer both wholesale and retail colocation services.
Amsterdam is one of Europe's most active data center markets, along with Frankfurt, London and Paris – the four cities are popularly known as the FLAP markets.
From DACH to FLAP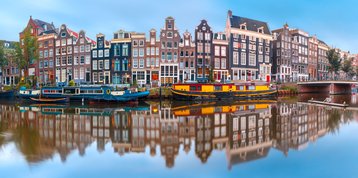 E-shelter is a subsidiary of telecommunications giant NTT Com, itself a subsidiary of Nippon Telegraph and Telephone Corporation, the largest telecommunications company in the world by revenue, part-owned by the Japanese government.
NTT Com acquired e-shelter in 2015, with the deal establishing it as one of the largest data center operators in Europe.
As well as its German sites in Berlin, Bonn, Hamburg, Frankfurt and Munich, e-shelter operates data centers in Zurich, Switzerland, and Vienna, Austria.
The upcoming data center in Amsterdam will be built on a 40,000 square meter development site, on the grounds of the Schiphol-Rijk industrial estate. It will eventually offer 16,000 square meters of space and almost 40MW of power capacity across two buildings – although the date of completion hasn't been made public.
"Our new markets expansion plan is largely based upon existing customer demand to deliver the e-shelter data center services outside of our existing DACH [Germany, Austria and Switzerland] markets," said Rupprecht Rittweger, CEO and founder of e-shelter.
"Considered one of the most wired countries in the world, the Netherlands has one of the most advanced markets for data center operations in Europe, making it the perfect place for e-shelter and NTT Communication's next data center location."
Earlier this week, e-shelter announced plans to build its fourth data center in Frankfurt – expected to offer 9.7MW of power capacity by early 2019 – and there are further announcements expected regarding new facilities in London and Madrid.