Djibouti is due to get two new cable landing stations and a data center.
Djibouti Telecom this week said it had broken ground on a new Cable Landing Station in Djibouti City.
The CLS will consist of three floors with each floor having a 250 square meter (2,690 sq ft) equipment room. The 3rd floor will reportedly be reserved for colocation. The facility is expected to be completed by April 2022.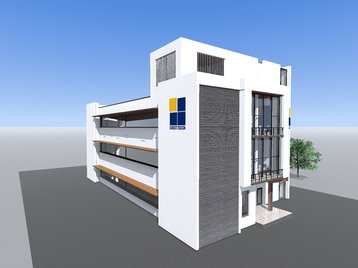 "The new Cable Landing Station will be a neutral digital port which will provide an open-access cable landing service to submarine cable operators for a neutral, safe and secure landing in Djibouti City," the company said.
"Djibouti Telecom is building a real digital platform for the region," added Mohamed Assoweh Bouh, Director General of Djibouti Telecom.
At the same time, Extensia reports that Wingu.Africa has partnered with Djibouti ISP TO7 Network to develop a carrier-neutral data center and carrier-neutral cable landing station. Specifications weren't shared, but the facility is expected to be ready for operation in early 2022.
"Djibouti is a strategic hub for traffic into Africa and a global interconnection point, and Wingu has operated a successful carrier-neutral data center for nearly a decade," said Anthony Voscarides, Wingu CEO. "Wingu recognizes the benefits of working with local partners and is delighted to partner with TO7 to offer the first carrier-neutral CLS."
Fatma Ismael, CEO of TO7, added: "The partnership allows TO7 to play its role in realizing Djibouti's strategy to enhance the country's attractiveness as a hub for telecommunications players and investment.  This initiative is both necessary, due to the requirement for carrier-neutrality, and complementary to Djibouti Telecom's established infrastructure and cable system customers, as all the country's telecommunications infrastructure will be connected, allowing customers open access and maximum flexibility."
Djibouti is already a landing point for around a dozen subsea cables, with four more due in the coming years. The Facebook-led 2Africa, Reliance Jio's IEX, and the France-to-Pakistan-and-Kenya Peace Cable are all expected to land in Djibouti City in the near future.
According to Baxtel, the country's only current carrier-neutral colocation facility is the Djibouti Data Center (DDC) in Djibouti City, which also hosts the Djibouti Internet Exchange (DjIX). The facility opened in 2013. The DDC is a joint venture between Djibouti Telecom and Djibouti Data Center SARL, a group of local and international investors.