Philippine telecoms firm DITO has broken ground on its new data center in Clark Global City, Mabalacat, Philippines.
Specifications of the facility in the Pampanga region weren't shared, but the company's 8-hectare development on the CGC business park will include a network operations center, a call center, a regional center, and a Research and Development (R&D) lab.
New telco gets to work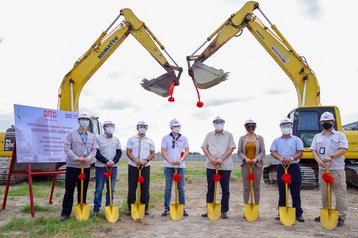 "The DITO data center is a critical component to sustain DITO's commercial operations center, designed after Google's campus-style headquarters: to hold operational departments, a network operations center, its very own call center, and regional center, and this must be located in an ideal location," added DITO PMO lead Benedicto Lacsamana during the ceremonies.
The new telecoms company has its roots in Mislatel, and is a joint venture between the Udenna Corporation and China Telecom's parent company China Telecommunications. The company started commercial operations in March and is aiming to become the third major telecommunications provider in the Philippines.
"We are very pleased that DITO chose Clark Global City to be the home of the DITO Data Center," said Udenna Land, Inc. President Wilfredo Placino. "The decision of DITO is continued testament to CGC's vision to create a smart, safe, and sustainable environment for Philippine and international businesses in the country."
The company has completed edge data centers in Bulua, Cagayan de Oro City; Baler, Aurora; and three in Panay in Iloilo city, Roxas city, and Ibajay Aklan.