With a record storm hammering Texas, Digital Realty is sharing its diesel fuel with other data centers, and has used diesel generators at some of its sites to reduce the load on the electrical grid. It has also offered a facility for use as a shelter, if the authorities need it.
The underfunded and deregulated Texas state grid has enacted rolling outages as power supplies dropped just as demand soared. This has left millions without power amid freezing temperatures, brought down Austin's city data center, and forced semiconductor manufacturers to shut down production.
But the region's largest data center providers have kept operating, thanks to diesel reserves and robust resupply networks. Some have even had diesel to spare.
For breaking data center news, subscribe to DCD's newsletter
Doing the right thing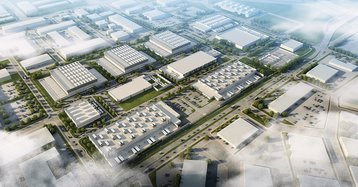 "We have provided support by redirecting fuel supplies to other customers in Texas who have data center capacity outside the Digital Realty portfolio of properties," Erich Sanchack, EVP of operations for Digital Realty, told DCD.
"Despite the extremely challenging weather conditions in Texas, Digital Realty has maintained operations for our data center customers in Dallas, Houston, and Austin. We have successfully transferred some loads to onsite generator power, while maintaining 100 percent uptime for critical and essential digital services as per our designs. By running generators at select sites, we have also been able to help reduce the overall power load on the ERCOT grid system."
Sanchack said that the company has "been able to keep its generators fully fueled," and has re-arranged work shifts to minimize the need for employees to travel into offices and facilities during the state emergency.
"From a community outreach perspective, Digital Realty has also offered up the use of one of our data center spaces in Lewisville, TX to provide potential overflow facilities to the city for families who lack access to power and heat," Sanchack said.
"This response is being coordinated with the city administration as a backup option to help those in need. We are also looking to make charitable contributions to local philanthropic organizations in Texas also on the frontlines, as part of our overall approach."
The company recently moved its corporate headquarters to Austin, Texas.
DCD has reached out to a number of the state's data center operators to hear how they are dealing with the crisis, and will update our readers as we learn more. Some data center customers have seen services go down. If you are running a data center in Texas, or are an affected customer, get in touch.