Digital Realty today announced that its third data center in Singapore is officially "powered on." This means that it has secured the requisite power from the grid, and is proceeding with final load testing and accreditation.
Located in the northeast side of the island state at Loyang Drive, the facility offers 50MW of critical power capacity to significantly extend the company's presence in Singapore.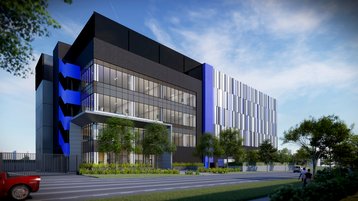 A stone's throw away
The five story Digital Loyang II (SIN12) offers a total footprint of 34,000 sq m (370,000 sq ft), and is located down the road from Digital Loyang (SIN11) - which was redeveloped from an existing paper store in 2016. As we previously reported, the two data centers are just 350 meters apart, which made it trivial to link the two facilities with diverse high-count fiber.
Designed for highly energy-efficient operation with limited water usage and environmental impact, SIN12 has been awarded a Platinum certification under the BCA Green Mark building assessment system.
At least three customers have already signed up for SIN12, according to Digital Realty. Specifically, SIN12 is partially pre-leased to a "major Singaporean multinational banking and financial services corporation," "a global industry leader in digital banking, fintech and sustainability" and "a leading global cloud provider."
"The development of our third data center in Singapore underscores our long-term commitment to supporting the country's digital economy as well as its fast-growing fintech industry, and to help keep critical industries functioning," said Digital Realty CEO Bill Stein who called SIN12 one of the most energy-efficient data centers in Singapore.
The new facility is understood to use indirect evaporative cooling, where outside air cools an internal environment without allowing internal and external airstreams to mix. This reduces the energy required for cooling while eliminating the possibility of external pollutants compromising inside air.
"Singapore is a key global data center market and a global leader in the development and adoption of emerging technologies. With our new facility, we are well-positioned to help our customers drive their next phase of growth," said Mark Smith, the APAC Managing Director for Digital Realty.