A company linked to Digital Realty is planning a data center on the site of a former brick yard in Manassas, in Virginia's Prince William County.
First reported by Potomac Local News and InsideNoVa, a company known as Digital Second Manassas LLC is looking to develop a 185,000 sq ft single-story data center at 9905 Godwin Drive in Manassas.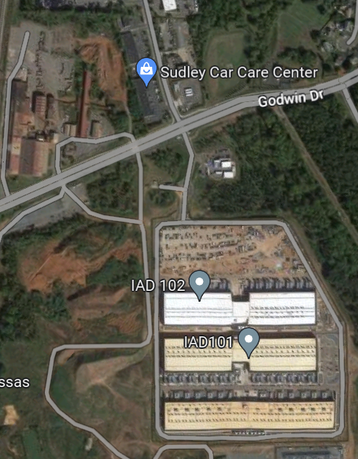 Demolition work has begun on the existing Glen-Gary brickyard, which opened around 1964 and closed in 2019. The site was purchased by Digital Second for $5.75 million in 2018, according to city assessments.
According to an SEC filing, Digital Second Manassas is a listed subsidiary of Digital Realty. It also shares an address with the company.
There is a data center campus on the opposite side of the road at 10000-10006 Godwin Drive. It isn't listed on Digital Realty's website, but an SEC filing from 2018 notes Digital Realty acquired 10000-10006 Godwin Drive for $16.5 million.
Satellite images show three buildings (shown as IAD100, IAD101, and IAD102) with a fourth (IAD103) seemingly in development. The likes of DataCenterhawk, CloudScene, and Upstack have the address listed as a DRT campus, while Greenpeace links the site to AWS, likely the campus tenant.
Manassas Community Development Director Matt Arcieri told Inside NoVa Digital Second Manassas is in the process of demolishing the brick plant while the building plans go through a second city review.
The city reportedly doesn't have a clear timeline on when the company is planning to begin construction once the building plans are approved.
QTS also operates a data center on Godwin Drive at number 9400 which it recently filed to expand. Less than a mile away from that campus, JK Land Holdings is looking to redevelop an existing Comcast data center at 11101 University Blvd.