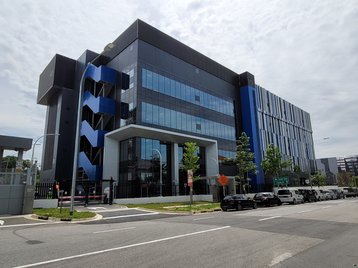 The company says the new facility will offer enterprises "the full spectrum of colocation services" and will enable them to scale their critical infrastructure on-demand within a connected data community with optimal proximity to carriers, networks and cloud service providers.
"Singapore is a well-established financial and business hub, and consistently ranks among the top data center markets globally," said Digital Realty CEO A. William Stein. "The opening of our third data center is a major milestone on our PlatformDIGITAL roadmap and underscores our long-term commitment to support the country's digital economy."
"Expanding our footprint in Singapore will enable us to better help our customers enhance their digital transformation efforts and scale their digital business models regionally as well as globally."
With a power usage effectiveness (PUE) of 1.25, the facility is being equipped with turbine generators rather than diesel engines and a combination of uninterruptible power supply (UPS) and lithium-ion batteries.
First announced in 2019, the new data center is less than 25 kilometers from Singapore's central business district and in close proximity to the Changi north cable landing station. Located adjacent to Digital Loyang I/SIN11, the two facilities have direct fiber connections, and both are interconnected to Digital Jurong/SIN10 on the west side of Singapore.