Digital Realty CEO Bill Stein has been terminated from his role as CEO, effective immediately.
The colo giant announced today that its board of directors has appointed current president and chief financial officer, Andrew P. Power, as its CEO and to the board of directors, effective immediately.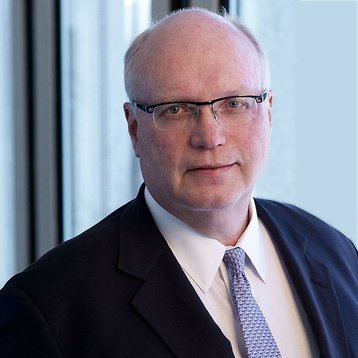 The company Stein has departed from his role as CEO and resigned from the board of directors, but will remain with the company through year-end.
Digital Realty board chairman Mary Hogan Preusse said: "I want to thank Bill for his exemplary leadership and congratulate him on the tremendous success that he has achieved for Digital Realty and its stakeholders. We wish him all the best in the next phase."
Before being named CEO in 2014, Stein served as Digital Realty's CFO and chief investment officer. Prior to joining Digital Realty in 2004, Bill was with GI Partners (which founded Digital Realty). He previously held roles at PNC, TriNet Corporate Realty Trust (now part of iStar Financial), Westinghouse Electric, Westinghouse Financial Services, and Duquesne Light Company.
In an SEC filing on the change, Digital said the board "approved the termination of A. William Stein as Chief Executive Officer of the company without cause, effective immediately" on December 13. No reason for the change was given, but it noted Stein will receive around $15 million in cash and various other separation payments and benefits.
According to another SEC filing from August 2021, Stein's employment with the company was changed to "automatically be extended each year for successive one-year periods until either the employer or Mr. Stein provides 60 days written notice of non-extension prior to the expiration of the then-current term."
Jordan Sadler, senior vice president of public and private investor relations for Digital Realty, told DCK: "Bill was explicitly terminated 'without cause' pursuant to his employment contract. This is different from being terminated for cause."
As he takes the helm as CEO, Power will remain president of Digital Realty and will continue to serve as CFO, with plans to announce a permanent successor in early 2023.
Power has been the company's CFO since 2015 and president since November 2021. Prior to joining Digital Realty, he served as Managing Director at Bank of America Merrill Lynch. Power was also a member of the lead underwriting team that advised Digital Realty on its initial public offering in 2004.
Preusse said: "Andy has spent the last two decades developing a unique skillset and unparalleled professional relationships that will enable him to excel in his new role as CEO. As president and CFO, Andy has worked tirelessly to help broaden Digital Realty's presence and value proposition, enhance the Company's financial flexibility and build the world's largest, data center platform. I am proud to be able to hand the reins to a capable leader and look forward to watching Andy lead the Company in the years ahead."
Power added: "I am honored to be named Digital Realty's CEO, and I want to thank Bill for all that he has contributed to Digital Realty and for nearly two decades of partnership," said Mr. Power. "I am grateful for the opportunity to lead this irreplaceable platform and our enormously talented and driven colleagues into the future. As CEO, I look forward to meeting the needs of our growing customer base and supporting our dedicated employees as we deliver on our strategic priorities, strengthen our value proposition and improve the core growth of our portfolio."