A developer is looking to develop data centers in Stafford County, Virginia.
The Potomac Local, citing sources familiar with the project, reports that an unnamed single firm aims to build four data centers in multiple corners of the county, including the Falmouth, Griffis-Widewater, and rural George Washington magisterial districts.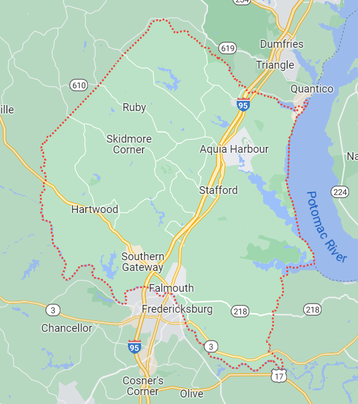 Details including developer and end customer, precise locations, or project timelines weren't shared.
Stafford County lies to the south of Prince William County and southeast of Fauquier County, on the Potomac River. It is not a county known for its data center developments, though in recent years has lowered taxes for data center equipment.
Stafford County is also considering creating a data center overlay district. The overlay zone – similar to Prince William County's – would provide designated areas in the county where developers could build data centers by right without seeking a land rezoning.
Sources say it's too early to know where the data center district lines would be drawn.
Prince William's current overlay district, known as the Data Center Opportunity Zone Overlay District, was created in 2016 as a special zone designed to house data centers without impacting the rest of the private and historical properties in the area. Currently covering 10,000 acres around the Manassas Regional Airport, and in areas along Route 234, Interstate 66, Route 234, and in Woodbridge. Officials are considering expanding the overlay zone in the county, in addition to the massive PW Digital Gateway project.
Falmouth District Supervisor Meg Bohmke said she's now paying attention to data center developers' interest in the county.
"I'm meeting with as many people as possible because there are definite positives to data centers," said Bohmke. "The key is, where are they going to be located, what will the buffer between them and people's homes be, and what will they look like when they're built? We don't want a bunch of boxy warehouses all over."
The news comes after following proposals for a new 2.9 million sq ft technology and data center park further south in neighboring Spotsylvania County.