A 2.9 million square foot (269,400 sqm) industrial park that would potentially include data centers is being proposed in Virginia's Spotsylvania County.
First proposed last year, the SpotsyTech Campus would span around 315 acres in Thornburg on a currently undeveloped site located along the west side of the I-95 and the east side of Route 1.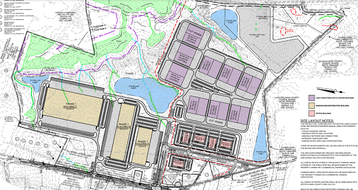 The Fredericksburg Free Lance-Star reports that the Spotsylvania County Board of Supervisors this week decided to delay a decision on the zoning request due to concerns concerning traffic and data centers.
The company behind the project is 'SpotsyTechnoCampus, LLC', which has been looking to rezone the land from A-2 to I-1 to allow for the development of industrial buildings including 2.6 million sq ft of 'warehouses, data centers, life science labs, and light manufacturing businesses such as electrical appliance and pharmaceutical production'.
There would also be 300,000 sq ft of commercial space that could host corporate offices, government agencies, and educational institutions, according to the application. Site plans include the potential for an on-site substation.
Phase 1 of development would see up to 1 million sq ft (92,900 sqm) of industrial space developed across three warehouse/logistics buildings, while Phase 2 would see another 1.9 million sq ft (176,500 sqm) of industrial space constructed across up to nine two-story 187,500 sq ft (17,400 sqm) industrial/data center buildings. The company said the total cost of the development is estimated to be $366.5 million.
It is assumed that construction will commence in the second quarter of 2023 and will be completed in 2030. The first full year of operations will be in 2031.
The land, previously listed as Pierson Farm, was sold to Spotsytechnocampus LLC in January last year for $6 million. A one Matteo Coppola is listed as VP of the company in documents.
While Northern Virginia is the data center capital of the world, Spotsylvania County, located south of Culpeper County, isn't known for its data centers. In 2019, Singapore-based TES announced plans to invest $1.29 million to establish a new information technology asset disposition (ITAD) center in the area.
After a public hearing, during which several residents spoke against the proposal, the board voted unanimously to table the proposal for 30 days. The Planning Commission this month had voted 5-1 to recommend approval of the project.