Over the past few years, American car manufacturer, energy storage company and solar panel maker Tesla has tentatively pitched its battery products to data center operators, with little success.
This week at DCD>Zettastructure, the company said it is taking the market seriously, revealing one of Tesla's first deployments in a data center.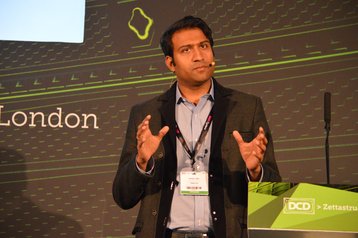 Storing your power
"The energy group at Tesla spans a number of different products that you will be familiar with, ranging from residential batteries and solar all the way to grid scale energy storage systems," Tesla's global head of energy projects, Archan Rao, said at the event.
"We're applying some of these energy storage technologies to data centers, which is a new avenue for us and one that we think is growing and where we have a lot of interesting use cases for."
Rao said that the company's range of energy products allowed it to share engineering expertise and R&D advances across multiple platforms, while keeping costs low.
"By having a very modular approach to the design, we can select appropriate cells based on applications, which allows us that flexibility to select the right chemistry that's best suited for the application."
Of course, most of the company's battery cells - which are manufactured by Panasonic - end up in its cars, each of which is connected to the Internet. "What that really translates to is a tremendous amount of data flowing back to us that allows us to understand the performance of batteries in different environments," Rao said.
Cumulatively, those cars, and Tesla's Powerpack and Powerwall products, add up to about 15GWh of energy storage deployed, he added: "And a little known fact is Tesla designs its own power electronics, not just the DC side of things, but the grid side aspect of it as well. That puts us on par with some of the largest inverter or power electronics manufacturers in the world."
Tesla hopes to sell its Powerpack into data centers, believing it represents more than just a DC battery system. Rao said: "We think of it as a fully integrated system which comprises the DC battery, which has its own thermal management system, the power electronics aspects that allow it to both charge from the grid or discharge back to grid, an integrated software management platform that can be customized to your specific application, and monitoring which increasingly becomes very critical."
Another feature Rao touted was durability - "they are designed to operate externally, so you don't need to fit them in your building," he said.
Data center operators have previously expressed concerns to DCD about the response times of Tesla's batteries, but Rao was confident the latest Powerpack was more than sufficient: "We have demonstrably shown that we have a response time within 10ms, and in some cases, depending on where you are, can be close to 3ms of transition time of being fully dependent on the grid to being fully backed up by a Powerpack system."
With that in mind, Tesla is "looking at deploying these systems in partnership with data center operators from the end of this year."
A customer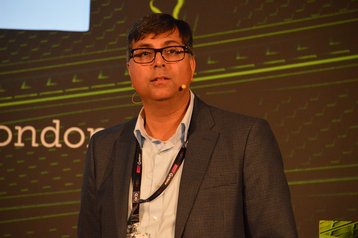 While it is still early days for Tesla in the extremely competitive data center market, the company has found some success - Rajan Battish, VP of design consultancy CallisonRTKL, came to DCD>Zettastructure to announce that the company had deployed enough Powerpacks for a 2.2MW high performance computing data center project.
"A client said we want an HPC system, without generators, without a fuel system," Battish said. "It improved delivery, because you're not dealing with permitting - air permits, fuel permits, etc."
He said that the company created a data center with a PUE of 1.3, capex savings of 14 percent, and opex savings of 10 percent over then years. "It's something to consider," he said, adding that the deployment cost some $25 million.
Since the generators were eliminated entirely, CallisonRTKL could not just rely on the Tesla Powerpacks as a short term UPS - it had to last longer. The company installed enough batteries to have a "failover time of four hours at peak load, six on an average load."
For Battish, the project made him fundamentally question how his company designs data centers: "You've got to have a generator. You've got to have a UPS… Why? Because all of the white papers and checklists say we need it. But do we actually?
"Think differently," he added.