American data center equipment specialist Geist has launched a universal PDU designed to support Project Olympus – an open source, hyperscale data center family originally envisioned by Microsoft.
The device features a universal input power connector, which enables it to be quickly pre-configured in a rack and shipped to any geographic location – regardless of voltage and amperage requirements - by simply adding a facility-side cable.
The launch coincides with the announcement that the first Project Olympus servers are now commercially available from Taiwan's Wiwynn and US-based Zt Systems.
Geist's universal PDU was demonstrated for the first time at the DCD Zettastructure conference in London earlier this week.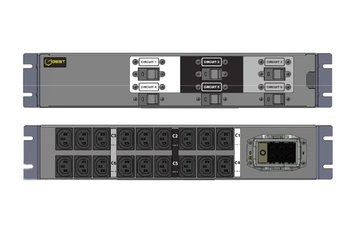 Breaking conventions

Project Olympus was launched a year ago under the auspices of the Open Compute Project, as an infrastructure stack designed primarily for the needs of hyperscale cloud operators.
This week, Kushagra Vaid, Microsoft's GM for Azure Hardware Infrastructure, announced that the blueprints for the server family were 100 percent complete and ready for manufacturing and production deployment.
Microsoft itself offers access to the hardware through the new 'Fv2' virtual machines - the fastest VMs in Azure.
Meanwhile Geist has made one of the first PDUs compliant with Project Olympus. It's a 2U rack-mount device with low profile circuit breakers and high outlet density. The PDU enables data center operators to switch between power sockets and pin layouts used in different geographic locations by simply choosing the right power cable, instead of having to buy PDUs wired exclusively for a certain region. This approach is described in Project Olympus as Facility Side Connector (FSC).
According to Geist, FSC can speed up rack deployment and data center expansion, while greatly simplifying supply chain complexity.
"We look forward to continued collaboration with Microsoft on innovations aimed at reducing the expense and effort involved in data center expansions," said Brad Wilson, Geist president.
"More broadly we recognize that every data center is different and that each has unique parameters for their ideal rack architecture. Our on-site manufacturing, testing facilities and deep product engineering experience enables quick turn customer-specific design solutions along with an ability to manufacture in varying quantities. We're able to serve entities ranging from hyperscale to start-ups to ensure that the benefits of the OCP community are available to more companies regardless of their size."
Universal PDU from Geist is expected to appear on sale in the first quarter of 2018.