Microsoft has promoted David Fernandes to lead its hydrogen strategy and partnerships efforts.
Fernandes has been at the company for the past three and a half years, as a senior manager of finance and strategy, and a business strategy leader. At those two positions, he was involved with Microsoft's early hydrogen strategy.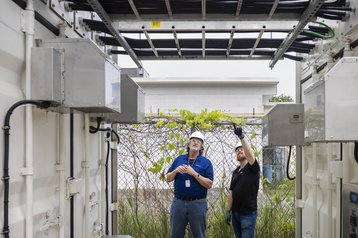 Prior to joining the cloud giant, Fernandes spent nearly seven years at French industrial gas company Air Liquide. Most notably, just under three years of that tenure was as the hydrogen energy business development manager at the company.
Hydrogen can be formed using renewable energy, but the vast majority comes from natural gas - undermining its role as a fossil fuel alternative. Air Liquide develops 'Cryocap,' a system to capture CO2 released during hydrogen production with natural gas.
However, not all of the CO2 is captured, it then needs to be stored, and the system does not take into account the greenhouse gas damage from methane leaks in the natural gas supply change.
Air Liquide was one of the founding members of the Hydrogen Council, an industry group that lobbies governments for hydrogen-friendly initiatives and tax breaks. Microsoft is also a member.
The company, which hopes to be carbon neutral by the end of the decade, said that it wants to stop using diesel as backup power for its data centers by 2030.
To pull this off, it has funded several potential alternatives, most notably hydrogen.
Last week, it demonstrated a 3MW power generation system powered by hydrogen. "What we just witnessed was, for the data center industry, a moon landing moment," said Sean James, Microsoft's director of data center research, said at the time.
In June, we spoke to Microsoft's Mark Monroe about the company's hydrogen plans, and why it was focusing on green hydrogen, for the DCD Zero Downtime podcast.
But while Microsoft has begun to show the technical ability for hydrogen to replace diesel (admittedly, with some drawbacks like energy density), for it to be able to become the fuel of the future, the company will need to partner with a hydrogen ecosystem to ensure a steady supply of fuel in an emergency.
More in The Energy & Sustainability Channel
More in Workforce & Skills