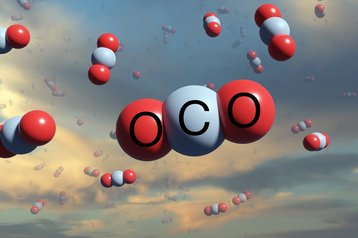 Marrs was presenting at last week's DCD>Grid Scale event and you can watch the presentation here as on-demand broadcast.
Microsoft CEO Satya Nadella committed Microsoft last year not just to going 'net zero' by 2030, but to go carbon-negative, too, and the company therefore has aggressive targets to reduce its carbon emissions, on the one hand, while upping its 'carbon removal' activities, on the other.
"The next ten years are the years that really matter for protecting the climate. In these 10 years, global emissions need to peak by 2030, and then rapidly decline to zero... We need to decarbonize completely," said Marrs, director of energy markets (EMEA), Global Strategy & Execution, for Microsoft.
"For Microsoft Cloud for our data centre services, this means by 2025, we will run on 100 percent renewable energy; by 2030, we have a goal to go diesel-free at all our data centers," said Marrs.
But that's not all: "After we achieve carbon negativity by 2030, we want to remove all the carbon from the atmosphere that the company has admitted since its founding in 1975," he added. "That's our moonshot."
The company's calculations also take into account the carbon emissions of its supply chain. It's carbon removal activities will be factored into the company's net-zero targets and will start this year. "We will literally remove carbon from the atmosphere, so we have opened a global carbon RFP [request for proposal] process to do that," said Marrs.
The company has developed tools to help source renewable energy, and to carbon stamp power it uses with a 'geo-guarantee' or stamp of its origins. In this way, the company will be able to translate its megawatt-hour usage into tons of carbon consumed "so that we can see the carbon residual over our renewable energy consumption against our load".
This will help the company to build a "carbon heat map" that will enable it to focus resources on either buying or building more renewable power. Furthermore, these tools will be released to the wider market, starting in Sweden where they were developed with Vattenfall.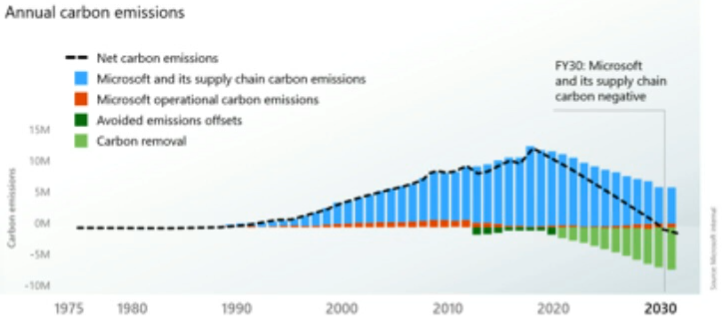 Indeed, the really big shifts that need to occur, as far as Marrs is concerned, is in the power utilities sector. "What everyone else does and what the grid does, in particular, matters the most," said Marrs. If the grid isn't de-carbonized, then Microsoft's sustainability activities will be moot, he indicated.
Grid operators will need to change from shifting electricity generated in massive gas, coal and (possibly) nuclear power stations to redistributing renewable solar, wind, hydro and geothermal energy produced in widely distributed locations. "If we think about music, they're used to a traditional tune, they have a single direction power system, and they connect generators to it and deliver load. Tomorrow, they're going to be orchestra conductors," said Marrs.
He continued "If we fast-forward to 2050, I think there's few versions of the happy story about addressing climate change in which utilities are not super-heroes."
Globally, the power grids will need to investment some $14 trillion between now and 2050, according to Bloomberg New Energy Finance, to contain climate change to an increase of 1.5 degrees celsius. Currently, the industry invests around $400 billion per year.
However, for all the talk of data centers becoming major drivers of carbon emissions, Marrs claims that energy efficiency gains across the sector has effectively capped emissions. "When we think about cloud itself, it is a climate solution. It's driving energy efficiency [by] driving the concentration of ICT computing power into discrete locations.
"Looking at a recent report from the International Energy Agency, internet traffic has gone up by almost 12 times, but since 2010 global data center energy use has held steady at about one percent," he claimed.
Fill in this form to receive a link to watch the session on-demand.
More...
Exploring the interconnection point between the data center and the grid

Cloud giant Microsoft is experimenting with hydrogen fuel cells as a replacement for diesel backup and, potentially, much more

How can you continue to deliver on data center construction demand and meet the need for speed?