UK data center firm Datum Group is planning two new facilities in south and northwest England.
The company this week announced plans to open two new data center buildings in Farnborough and Manchester in 2024.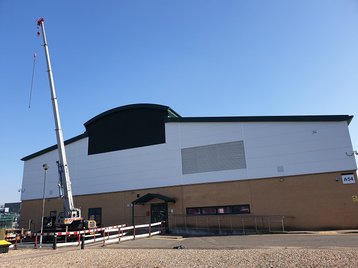 The two new facilities (FRN2 and MCR2) will be located on the sites of the Datum Group's existing data centers in Farnborough (FRN1) and Manchester (MCR1).
FRN2 will provide capacity for 600 racks on the ground floor, with scope to double this capacity on the first floor.
MCR2 will be located at the recently-acquired Teledata site in Manchester and will offer up to 25,000 sq ft (2,300 sqm) of space, 4MW of power, and more than 1,000 new server racks.
Datum Group's CEO, Dominic Phillips, said: "Our decision to open two new data center facilities is a response to the strong demand we are seeing for our services and will allow us to support our clients' growth by providing enterprise-grade colocation through our network of high-security data centers."
Launched in 2012, Datum operates the Datum FRN1 facility in the QinetiQ Cody Technology Park in Farnborough, located outside London. The 40,000 sq ft (3,716 sqm) facility was built by KeySource in 2012.
The company was acquired by funds managed by the UBS Asset Management (UBS-AM) Real Estate & Private Markets business (REPM) in September 2021 and acquired Teledata in September 2022.
Matt Edgley, director at Teledata, added: "This expansion will allow us to build on our excellent reputation in Manchester for providing premium colocation services. Our new facilities in Farnborough and Manchester will provide even more businesses with the high-quality data center services they need to grow and succeed."
Founded in 2004 and based in Wythenshawe, Manchester, Teledata's existing facility opened in 2007 offers colocation, cloud, dedicated server hosting, and workplace recovery services across 70,000 sq ft (6,500 sqm) of floor space. The company announced plans to open a fifth data hall at the site in May 2022; the 1,200 sq ft (111 sqm) expansion will deliver an additional 120kW of power and was scheduled to open in July 2022.
In June 2022, the company announced plans to open a second Manchester site later this year that will offer up to 25,000 sq ft of data center space and 4MVA of capacity. The first three of up to 10 data halls were due online in Q3/Q4 2022. This week's announcement is in lieu of the originally-planned facility.
A spokesperson for Datum told DCD: "Originally, Teledata had bought the building and had plans to fit the existing building out as a DC. However, post-acquisition, they are now going to demolish the existing structure and start from scratch with a purpose-built data center with a higher spec to match with the Datum Group's specifications."