Irish data center developer Dataplex has filed to expand data center in Dublin, Ireland.
The company this month filed with Dublin City Council for permission to change the use of existing building space in a property on the Willsborough Industrial Estate in the Clonshaugh Business and Technology Park as well as extend it further.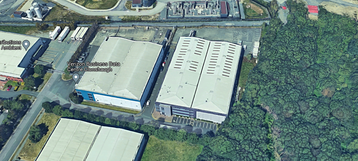 The company has filed to change the use of warehousing and storage space within the existing building to data storage use and the construction of a 980 sqm (10,500 sq ft), two-story extension for data storage use.
The site is currently a warehouse featuring a mixture of office space over three floors, partitioned warehouse/storage space, and data storage space on the ground floor. The company aims to expand the data center from a current 1,256 sqm (13,500 sq ft) to a total of 3,843 sqm (41,365 sq ft) across two floors; 3,353 sqm on the ground floor and 490 sqm on the first floor.
The site is listed online as a Vodafone data center, while the owners in the council filings are listed as local real estate firm IPUT plc. It is unclear if Dataplex has taken over the site's operation from Vodafone or is making changes on behalf of the telco.
Last month Dubai-based conglomerate DAMAC Group – the private investment arm of Dubai billionaire Hussain Sajwani – announced it was investing in Dataplex, taking a stake that would reach up to 45 percent of the company. The partnership between the two companies will focus on brownfield projects involving retrofitting existing structures and larger greenfield projects, with a specific focus on hyperscale and wholesale colocation customers.
The companies, along with Dataplex investor Chirisa, have also acquired a land parcel in Abbotstown for a greenfield 70MW+ data center and industrial campus development in Dublin, Ireland.