A data center development is being proposed on a former military airfield in Marquette, Michigan.
Vikki Kulju, Executive Director, Telkite Enterprises says an "undisclosed purchaser" is looking to acquire the former K.I. Sawyer Air Base Command Center – also known as the SAGE (Semi-Automatic Ground Environment) Building – and redevelop it into a data center.
Originally constructed by the US Air Force and decomissioned from the SAGE program in 1963, Kulju said the building has not operated in its capacity as a data center since the base closed in September 1995.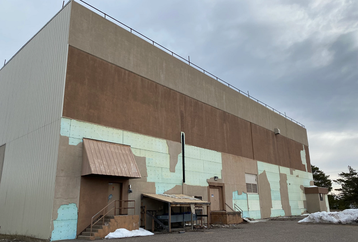 According to a Telkite flyer, the SAGE building is a three-story, 120,000 sq ft (11,150 sq m) property that also has an ancillary 10,000 sq ft (929 sq m) building. The 15 inch reinforced poured concrete structure is "built to withstand pressure from thermonuclear warheads and hardened from the effects of electromagnet pulses (EMP)." The sale price is listed as $3 million or can be leased at $6.50 p sq ft as a triple net lease.
The proposed development, reportedly known as Project Odyssey, would retrofit the building into a renewable-powered "mission-critical Tier 3 data center" with offices, including secure sensitive compartmented information facility (SCIF) facilities.
"This was one of the most challenging properties vacated by the USAF and was once a major Air Force Command and Data Center," said Kulju. "To see a building developed during the Cold War Era repurposed in support of today's military space applications with cutting-edge technologies would be tremendous for the building and for the community whose businesses require data centers to support their information technology operations."
The contractual arrangement is reported to be "in the early stages" and subject to several contingencies and approvals from local, state, and federal agencies, including funding assistance and incentives.
"We have a long way to go, but if successful, Project Odyssey will change the face of Sawyer and boost economic development for the entire community," Kulju added.
The project will accommodate a number of companies requiring hosting, disaster recovery, and colocation services, including local aerospace companies involved in the Michigan Launch Initiative.
"The Michigan Launch Initiative supports an ecosystem that leverages all terrestrial wired and wireless capabilities along with satellite communications services to enable secure interoperability across all geographic domains and anticipates Project Odyssey as being instrumental in the development of that network," said Gavin Brown, President of the Michigan Aerospace Manufacturers Association.
Part of Sawyer International Airport, K. I. Sawyer Air Force Base officially opened in 1959 and closed in 1995. The civilian airport is still active and the military land is now part of the Telkite Industrial Park.
SAGE was a system of IBM's huge AN/FSQ-7 computers that coordinated data from radar sites into a single unified image of US airspace. SAGE directed and controlled the NORAD response to potential Soviet air attacks. Each FSQ-7 FSQ-7 measured around 22,000 sq ft (2,000 sqm) and took up an entire floor. Sawyer's SAGE Direction Center DC-14 , reportedly designed by MIT , opened around 1960 and closed in 1963.
The facility includes an AT&T point of presence and the FAA have previously operated radar for homeland defense at this building.
More in Construction & Site Selection