On May 29 as the Dallas, Texas area endured bad weather, floods took out Securus Technologies' data centers - with the unusual result of cutting Texas prisoners off from their friends and family.
Securus Technologies is a for-profit data center operator serving the prison industry. When its data center in Dallas failed, this took out a video conferencing service, used by thousands of inmates in the Texas prison system instead of physical visits from friends and family, for nearly one day. 
Securus shares a data center which provides electricity, heating, ventilation, and cooling to many carrier grade customers in a Dallas location. At 3,30am, the cooling failed, and Securus' equipment heated to over 120°F, and the company had to take the extraordinary measure of shutting down all of its the data centers. Securus had no back-up plan.
To get the system running again, Securus had to do the following: 
Replacement of switch/router/server electronic cards that cost over $1m;
Hiring a private jet to deliver an emergency set of cards to Dallas from Oregon;
Many Securus staff working 24 hours shifts;
Securus staff contacting and updating 2,600 facilities during the outage;
Rebooting thousands of pieces of kit, worth several hundred million dollars;
Mobilizing 200 staff.
The result was that thousands of inmates of the Texas penal system were unable to communicate with friends or family for that day. 
Richard A. ("Rick") Smith, CEO of Securus said: "It is never good to have a service outage that negatively impacts our prison/jail customers, inmates, and friend/family members – that is unacceptable from our perspective. But we responded quickly with over 200 Securus Associates (Employees) throughout the United States to turn down our equipment in a deliberate/programmed way, diagnose problems, notify our customers, repair hardware and software, and turn our equipment back up. As a result of our actions, we turned a multiple day potential service outage to an outage that was corrected within the same day. Given the 'once in a century' weather including massive flooding, and significant loss of life in Texas, the work that we accomplished was extraordinary."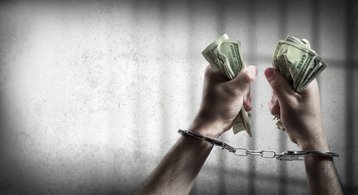 Squeezing extra profit out of the prison system
"Normally, we complete over 400,000 calls from inmates to friends/family members in a day and we only completed 170,000 calls on Friday. Many of those calls shifted to Saturday and Sunday which is good – as the communications were completed, albeit late. I apologize to those correction officials, inmates, and friends/family members for any inconvenience that the outage caused you. I pledge that we will always give you our best, there is no doubt," said Smith.
Aside from the issues of disaster planning and recovery, the outage has drawn attention to a major debate in Texas, where for many inmates video calls have replaced in-person visits.
Physical visits were halted at Denton County Jail, at the instigation of Securus, for all prisoners including those on remand prisoners awaiting trial, and those who cannot afford bail, according to the Dallas Observer.
Video chats can be carried out on site for free, but when the "visitor" makes the call from home this costs $5."Video chats at the jail are offered to family and friends at no charge, while video chats done at home are offered for a fee, on the assumption that you're going to be lazy," said the Observer's Amy Silverstien. "The money goes back to the county and Securus."
Protesters have argued that this is a forced removal of prison inmates' rights to personal visits from their loved ones. While the Denton County Sheriff's Office is video-only, Securus has reportedly started to modify contracts that mandate its prison managing clients do away with in-person visitation in favor of video calls. 
Josh Gravens, a North Texas community activist who organized a protest over the removal of in-person visitation in Denton County, said Securus officials recognized as a company that contractual language eliminating face-to-face visitation for families was not a good selling point.
Users can also conduct video chats from their home computers by using www.visitfromhome.net, but that option costs $5 for a 20-minute video chat or $10 for 40 minutes, sheriff's officials said. Talking to the Denton Record-Chronicle, Denton County Commissioner Andy Eads said increasing efficiency and saving money was the reason the county signed on for video visitation services, even at the cost of in-person visitation.