A data center is up for sale or lease in Pittsburgh, Pennsylvania.
Colliers and Five 9s Digital are offering the facility at 615 McMichael Road in McKees Rock. Colliers' materials say the site is for lease, Five 9s' says it is available for either a lease or sale.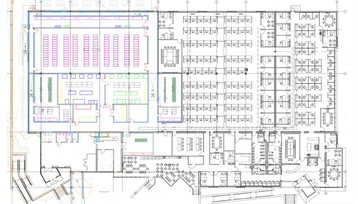 The 41,370 sq ft (3,845 sqm) building, constructed around 1980 and refurbished in 2008, offers 17,115 sq ft (1,590 sqm) of data center space and 3.5MW of power that is expandable. The site includes 2MW of Cummins generator backup alongside UPS, PDUs, hot aisle containment design, and raised floors. The property includes 27 offices, 143 cubicles, and six conference rooms.
The facility is reportedly ready to occupy as a 'plug and play' opportunity and Five 9s has a listed price of $9 million or for lease at $18 per sq ft on a NNN lease.
Colliers suggests that the site would be ideal for robotics, biomedical, call center, tech/flex, or value add manufacturing uses.
At least part of the site was previously leased to the Dream Center Foundation, an education provider that went into receivership in 2018 after allegations of misconduct against the company.
Before that, the site was previously operated by Education Management Corp. (EDMC), which sold a number of assets to Dream Center in 2017 prior to its bankruptcy the following year amid its own legal troubles. EDMC had leased the site from Sampson Morris Group in 2010, with some $24 million invested in the facility to convert it into a data center.