The Defense Advanced Research Projects Agency (DARPA) has launched a program to expand domestic semiconductor manufacturing capabilities, particularly for custom defense systems.
Intel, along with researchers from the University of Florida, University of Maryland, and Texas A&M, have joined the Structured Array Hardware for Automatically Realized Applications (SAHARA) initiative.
DoD wants chips Born in the USA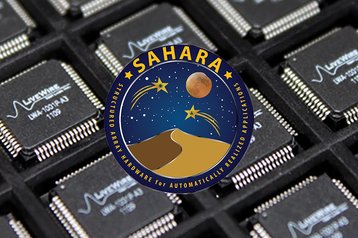 SAHARA aims to use US fabs to enable the automated and scalable conversion of defense-relevant field-programmable gate array (FPGAs) designs into quantifiably secure Structured ASICs.
It will also seek to develop novel chip protections to support the manufacturing of silicon in zero-trust environments.
The military heavily relies on FPGAs, but Structured ASICs can offer lower power consumption and much higher performance. But current manual conversions of FPGAs to Structured ASICs is a laborious and expensive process, which the Department of Defense says is not worth it given the number of custom chips it consumes.
Conversions on foreign soil are equally a no-go, due to security concerns.
DARPA, Intel, and the universities will work to automate the conversion process and add supply chain chip protections.
Intel will expand its domestic chip manufacturing capabilities, which have been flagging for commercial chips, to now develop the Structured ASICs on their 10nm process.
"SAHARA aims to enable a 60 percent reduction in design time, a 10x reduction in engineering costs, and a 50 percent reduction in power consumption by automating the FPGA-to-Structured ASICs conversion," said Serge Leef, a program manager in DARPA's Microsystems Technology Office.
"The partnership with Intel will ultimately afford the DoD with significant cost and resource savings while enabling the use of leading-edge microelectronics across a host of applications."
The US Under Secretary of Defense for Research and Engineering's deputy principal director for Microelectronics added: "The structured ASIC platforms and methods developed in SAHARA together with the advanced packaging technology developed in SHIP will enable the US Department of Defense to more quickly and cost-effectively develop and deploy advanced microelectronic systems critical to DoD modernization priorities."
Despite the vast and increasing number of chips used by the DoD and wider military-industrial complex, its semiconductor consumption still pales in comparison to the consumer market.
With less of a focus on the need for domestic manufacturing, consumer chip demand has seen cutting edge process manufacturing shift steadily overseas, with more than 70 percent of semiconductors now manufactured in Taiwan.
This has proved perilous for supply chains, with the world currently suffering an acute chip shortage. But it is more concerning to the DoD, which cannot get the latest chips domestically.
Among the efforts to counteract this decline is DARPA's Electronics Resurgence Initiative, first announced in 2017. Across dozens of programs, it hopes to kickstart US semiconductor manufacturing.
Equally, with the current chip shortage, politicians are pushing for legislation to help fund domestic fabs. President Biden has promised to back such efforts, and pledged $37 billion in early funding.