CyrusOne has purchased a new shell location in Austin, Texas, where the co-location provider plans to establish its third data center facility serving the region. Austin III will be the company's largest in the market, with 172,000 sq ft of total shell space, up to 120,000 sq ft of colocation space, and up to 25,000 sq ft of office space once complete.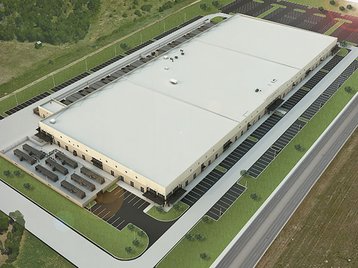 The new facility is located at Austin's Met Center, a mixed-used business park south of downtown Austin that is home to CyrusOne's two other colocation facilities in the state's capital region. The company said the carrier-neutral site will provide its modular data center offerings and feature up to 12MW of power capacity, redundant closed-loop chilled-water cooling, 24/7 security, and a 100% service level agreement on power availability.
Customers at the Austin III facility will also have access to CyrusOne's National Internet Exchange (IX), enabling what the company calls "low-cost robust connectivity" to its other data centers in Texas and the rest of the US. CyrusOne was the first data center provider to receive the Open-IX certification for hosting internet exchange infrastructure. The non-profit standards body certified six CyrusOne locations in January 2014 that included Dallas, Houston, Austin, Phoenix and Cincinnati.
Last October, CyrusOne raised $600 million in credit and loans to further expand its data center business in the US, Europe and Asia. Later that month it completed a new facility in the Phoenix area via its modular design strategy. The company built Phoenix II (a.k.a. Chandler II) from the ground up in 107 days, which it said was the fastest data center construction project ever in the US.
CyrusOne deployed its 'Massively Modular' engineering strategy for Chandler II, which assembles cooling, power, space, and redundant systems into standardized building blocks. It's an emerging approach being deployed by a handful of similar providers, and one CyrusOne said it will use for Austin III.
Texas-sized Presence
CyrusOne Currently operates 26 data centers in three countries. The US is, by far, its largest market – home to 24 of its facilities. But the Lone Star State is where the company's roots were planted, and the Austin III data center, once opened, will give the company an even dozen in Texas, concentrated in the Dallas, Houston, Austin and San Antonio metro areas.
"Based on current and projected customer demand, it was essential to expand in this market. We've been extremely successful and have seen a tremendous amount of growth in Austin," said John Hatem, CyrusOne's senior VP of data center design and construction, in a press statement.
In August of last year, CyrusOne has added an extra 5,000 sq ft of raised floor space to its Austin II data center. This came on the heels of a completed expansion project in Houston and the start of another in Carrollton, a Dallas suburb, earlier in 2014.