Data center real estate investment trust CyrusOne has claimed its data center campus in Arizona is net water positive, due to efforts to reduce water use, and a partnership to restore watersheds.
The Chandler data center uses proprietary technology that "dramatically reduces water usage onsite" and will reduce company-wide water usage by millions of gallons per year, CyrusOne said. The company is also partnering with the Bonneville Environmental Foundation's Change the Course program for water restoration.
Replenishing rivers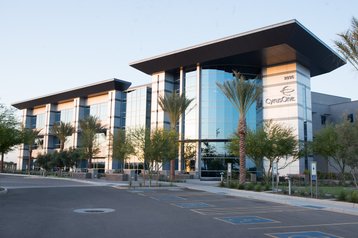 "We utilize an air-cooled chiller technology with an integrated compressor and condenser that cool the closed loop of water," Andrea Munoz, VP of operations and customer success at CyrusOne, told DCD.
"There is no evaporative cooling, no blowdown, no new water usage, and no release into the sewer system. Since the current system was designed from the beginning as a zero-water consumption cooling, we were able to get some efficiencies by working with our suppliers to optimize for air-cooled chilling."
The Department of Energy estimates that the average data center consumes 1.8 liters of water to cool every kWh it consumes, while some industry estimates suggest around 5 L/kWh. "Even taking the lower DOE average, this facility is able to operate at a 94 percent reduction from the industry average," Munoz said.
CyrusOne made an initial financial contribution of $10,000 to the Change the Course program, which "helped restore water flows well in excess of what the Chandler data center used in 2019," Munoz told DCD. The company plans on continuing the partnership.
"Working with the Change the Course campaign from the Bonneville Environmental Foundation, we restored 5 million gallons of water," Munoz said. "Since the Phoenix-Chandler facility withdrew about 3.6 million gallons of water in 2019, for every 10 gallons we used, we restored 14 gallons, making a net positive contribution to our local watershed (or 40 percent more water than we used). Though it is typical for Water Usage Effectiveness calculations to only count the water from cooling and humidification (and not facility maintenance, bathrooms, or irrigation), we decided to count every drop regardless of where it is used since that is what is felt by the community."
Val Fishman, chief development officer at BEF, added: "Addressing water scarcity will require us to not only reduce consumptive water use but also restore water to nature."