The cyclonic storm Vardah, which hit eastern India earlier this week, has impacted submarine cables providing Internet services to the region.
Vardah has caused widespread damage, forcing tens of thousands to evacuate and claiming the lives of at least four in Chennai and northern Tamil Nadu.
Restoring services as soon as possible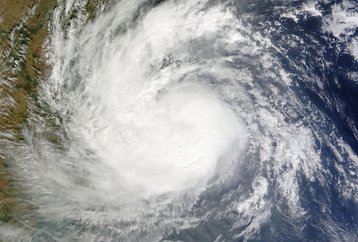 On December 11, Vardah approached India as a very severe cyclonic storm with wind speeds of more than 130 km/h (80 mph), before weakening to a severe cyclonic storm when it made landfall the next day.
The submarine cables of Bharti Airtel and several other telecom companies were disrupted during this approach, The Times of India reports.
"Due to the severe cyclone at Chennai coast, one of our international undersea cables has been damaged and Internet traffic has been partially impacted. As a result, customers in some locations may be experiencing slow Internet/data speeds," a spokesperson for Airtel said.
Murali S, business head of Vodafone's Tamil Nadu unit, said "Cyclone Vardah, which paralyzed Chennai and nearby areas, caused disruption of some of our services as well. Our on-ground teams are working on a war-footing to restore services in the shortest possible time."
The cyclone is thought to have "probably shook the undersea cable network across the Bay of Bengal," another Vodafone spokesperson told TOI, which led to a three hour long loss in voice and data link for those in Kolkata, and some areas of Bengal.
"Vodafone in Kolkata and rest of Bengal (RoB) have never faced a network failure of this magnitude. As the root cause of the problem was so severe, it took an hour's time to ascertain the situation and fix the glitch," the spokesperson said.
The terrestrial network of Global Cloud Xchange, the Reliance Communications subsidiary, is thought to also have been impacted, with repairs underway.
A spokesperson at Reliance Jio Infocomm told The Economic Times: "There has been some impact on our networks because of power, damage to the towers due to Vardah and other logistical factors."
A real impact
Hampered Internet and mobile connections for those in India comes at a particularly troublesome time, with the country currently in the middle of a painful and controversial demonetization initiative.
On November 8, Prime Minister Modi announced that all ₹500 and ₹1,000 banknotes of the Mahatma Gandhi Series would be invalid after midnight, and issued new replacement notes. The rationale behind the move, Modi said, was to stop counterfeiting that funded terrorism and fed corruption, drug use, and smuggling.
While the necessity of replacing the banknotes is a matter of much debate, with critics and supporters across India, what is undeniable is that the sudden change caused a cash rush. Banks across India remain unable to satisfy the number of citizens trying to trade in their defunct notes, while purchases have proved difficult for those unable to get their hands on the more recent notes.
With this in mind, many have turned to cashless banking - something recently promoted by Finance Minister Arun Jaitley, who this week unveiled several discounts and freebies to promote digital transactions.
But for those in Chennai and Tamil Nadu, this has proven difficult.
Hospital employee Jemit Jacob told The Economic Times about his inability to pay for fuel: "When the first petrol bunk [gas station] turned down a card, I thought I would go to an ATM and withdraw some cash," but that was also unable to take money out from it.
Suresh Kumar, VP of Tamil Nadu Petroleum Dealers Association, said: "We had switched to GPRS-based machines to make it easier for customers but now with networks down, we are all facing a very tough time."