Indonesian police have been questioning 12 witnesses about the deadly blaze in the Cyber 1 data center in Jakarta last week, which killed two people.
The cause of the fire is still unknown, and no suspects have been named, as the police wait for forensic reports, according to news site Tempo. Services disrupted by the fire include stock brokers, digital payment applications, news sites, games portals, government services, Internet providers, and hosters.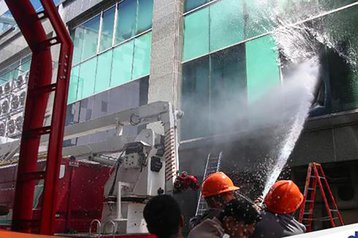 "Some witnesses are still under investigation. We have questioned 12 people," said South Jakarta Police Chief Sr. Comr. Azis Andriansyah, according to Tempo.
Waiting for forensics
The results of the forensics laboratory have not come out yet." said the chief (Google translation). "There are no suspects yet. We are also still looking into the cause of the fire. That is why our colleagues at the forensics laboratory need more days to investigate this."
The police have yet to confirm whether the fire was caused deliberately, or due to accident or neglect.
Meanwhile, an infographic on Antara News lists services affected by the fire, which include two stock brokers PT Ajaib Sekuritas Asia, and PT IndoPremier Online Technology (IPOT).
Digital payment applications M-Tix, Cinema XXI, Shopeepay, and Bank Neo Commerce were hit, as were games portals Megaxus Infotech and Ragnarok Online. Internet provider PT Inet Global Indo was affected, as was the Indonesian Government's portal for registering IMEI numbers for mobile devices.
Antara New's parent company, Kantor Berita Antara, was itself hit by an outage after the fire.