Colocation firm Cyxtera, which recently filed for Chapter 11 bankruptcy, is rejecting a number of its leases.
First reported by DgtlInfra, the company has begun the process of seeking to reject unprofitable data center leases in the US and the Netherlands.
Cyxtera reportedly expects to save over $114 million in future rent payments, plus associated maintenance costs and taxes, over the remaining term of the leases by rejecting them. The exits would also avoid around $11.5 million in net operating losses, based on the company's performance in 2022.
Struggling Cyxtera recently filed for Chapter 11 bankruptcy earlier this month amid ongoing losses and looming debt maturities. The company is seeking to find a buyer or new investor.
A Cyxtera spokesperson told DCD: "Consistent with our commitment to optimizing operations, we are evaluating our data center footprint to ensure it meets our customers' evolving needs and our strategic business priorities. In connection with these efforts, we intend to exit our sites at MWH1 (Moses Lake, WA) and AMS1 (Halfweg, the Netherlands)."
"The Moses Lake site is currently not being utilized, and we have notified our customers at AMS1. We are committed to working closely with them through this transition. As always, if and when we make a decision that would affect our data center footprint, to the extent any customer could be impacted, we would provide as much notice as possible and make every effort to transition services to another Cyxtera site while mitigating disruption."
Cyxtera leaves CyrusOne site in Amsterdam
In the Netherlands, Cyxtera is rejecting the lease at its CyrusOne-owned AMS-1 data center.
Cyxtera's presence at the facility, located at Linieweg 1 outside Amsterdam, spans 3MW and 23,725 sq ft (2,200 sqm). Cyxtera launched operations at the site in October 2019.
The entire Linieweg site spans 29,350 sqm (315,920 sq ft) across two three-story buildings and offers 54MW. The campus launched in 2018. Dgtlnfra reports the Cxytera-operated part of the facility is currently only 6 percent occupied.
Cyxtera reportedly plans to cease operations at this data center and reject the lease effective September 6, with customers needing to relocate to another Cyxtera facility by August 31.
The company operates European facilities in Frankfurt and London.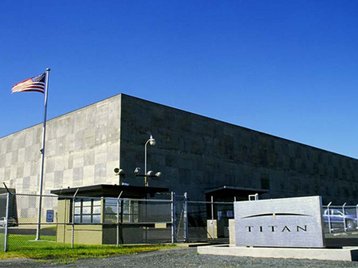 Moses Lake: Cyxtera rejects lease on vacated site
In Washington, Cyxtera has rejected the lease on the Serverfarm-owned facility in Moses Lake. Known as MWH-1, the company had already exited the facility in 2021 and previously accepted a charge of around $60 million . At the time of the exit, Cyxtera said it would continue to pay its obligations under the lease agreement while ceasing operations at the facility.
The 22MW Moses Lake site, at 4949 Randolph Road, was reportedly one of the first purpose-built hardened data centers, having initially served as a North American Air Defense Command Direction Center from 1958-1963. It housed an IBM SAGE computer system used to monitor and coordinate US air defense in the early years of the Cold War.
CenturyLink originally leased the site from ServerFarm in 2015, with Cyxtera taking over the lease once it was formed from CenturyLink's data center and colocation business.
DCD has reached out to CyrusOne and Serverfarm.
Cyxtera went public via a SPAC in 2021. The company combined with the Nasdaq-listed Starboard Value Acquisition Corp. (SVAC) in a $3.1 billion deal. However, within a year, the company was rumored to be looking to go private again, but has been unable to find a company to acquire it. Reports that it was again looking for a buyer surfaced earlier this year as debt matured.
The colo firm operates more than 60 facilities totaling more than 245MW across 29 markets globally; the majority of its portfolio is leased.
According to the bankruptcy filings, Cyxtera owes just under $740,000 to Serverfarm, and just under $493,000 to CyrusOne.
Other creditors include Digital Realty ($2.5 million), Menlo Equities ($2.2m), Iron Mountain ($900,000), Sabey ($762,000), and IPI ($562,000).
Non-landlord creditors include construction firm HITT ($3.5m), security provider Securitas ($1.4m), wiring firm Southwire ($1m), generator company Cummins ($2.24m), financial services firm Lazard ($1.5m), and HVAC company Trane ($867,000).
Digital Core REIT, Digital Realty's Singapore-listed REIT, is another landlord impacted. Cyxtera is the REIT's second-largest customer and occupies 100 percent of three shell & core facilities in Silicon Valley; 100 percent of two shell & core facilities in Los Angeles; and 1.5MW, or four percent, of a fully-fitted facility in Frankfurt. The company noted that Cyxtera represented approximately $16.3 million, or 22.4 percent of Digital Core REIT's annualized rental revenue.
Mapletree Industrial Trust said Cyxtera occupies eight of its data centers in the US and is the firm's third-largest customer - accounting for around 3.2 percent of its income.
Keppel DC REIT - which is the landlord for Cyxtera's LHR2 facility in London's Docklands - has said the operator's issues will have "no material impact" on the company.