A Mayo Oireachtas senator says EirGrid's proposal to require energy-intensive buildings to be constructed close to sources of renewable energy are welcome and could benefit her county.
Senator Lisa Chambers said data centers could be asked or encouraged by the Irish Government to locate in areas where the grid is not under pressure, and such proposals would be welcome in her constituency.
State utility EirGrid is currently consulting on plans that would require new energy-demanding projects such as data centers to be built near to renewable energy sources in order to reduce pressure on local energy grids in the east of the country.
"That would mean such centers not locating in the east of the country, as they have been doing, but coming to, for example, the west of Ireland," she said in the Connaught Telegraph.
"Mayo would be happy to welcome new investment in energy. There is plenty of space and that would be a welcome initiative in rebalancing investment and growth across the regions."
Read DCD's new Sustainability Supplement for more on how data centers can help fight climate change
Out of Dublin, into Mayo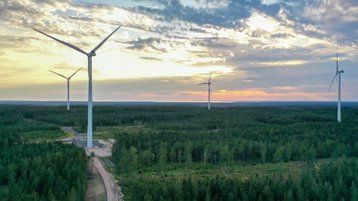 At present, EirGrid has no say on where high-demand users locate and has to connect users to the grid wherever they choose, regardless of existing demand for power in the area.
New draft proposals put forward by EirGrid as part of its Shaping Our Electricity Future consultation, would see large electricity users such as data centers be placed close to sources of clean energy generation, lessening demand in areas with higher energy loads.
The new proposals would force new data center construction away from the east coast and Dublin to the west coast where there are more renewable energy projects.
"Changes to government policy would see new high-demand users locate closer to sources of clean power," states the proposal. "To make the most of existing grid infrastructure, they would be sited near major towns and cities in the west and south of the country."
Earlier this month Irish politician Bríd Smith questioned whether the Government's current policies around data centers are compatible with its climate goals and called for a re-examination of their special status and fast-tracked planning permission benefits.
The Government has set a target that 70 percent of Ireland's electricity will come from renewable sources by 2030. In its Generation Capacity Statement 2020-2029, EirGrid projects that demand from data centers could account for 27 percent of all electricity demand in the country by 2029, up from 11 percent in 2020.