The construction of an Africell data center in Freetown, Sierra Leone, has begun.
The seafront construction commenced with a groundbreaking ceremony carried out by Africell in the capital city recently. Details about the scale and output of the data center have not been released.
Africell is a mobile network operator in Africa, operating in Gambia, Sierra Leone, the Democratic Republic of Congo, and Angola. Launched in 2005, the company offers data, voice, and SMS products in Sierra Leone.
The managing director of Africell Sierra Leone, Shadi Gerjawi, said that the facility will become the 'center of the Africell network' in the West African country and that it would first act as Africell's Disaster Recovery Center, ensuring network resilience and redundancy for voice and data.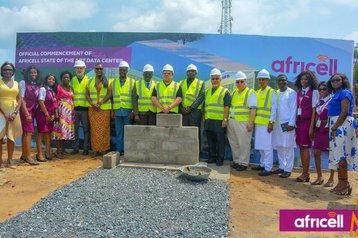 The data center has also been dubbed 'multifunctional' by Gerjawi. Part of the facility will host third-party infrastructure and data, and offer storage capacity for disaster recovery and redundancy for government, non-governmental organizations, and private companies.
The facility should also be able to host a second undersea cable for Sierra Leone in the near future, though exact dates were not stated.
Chief Minister of Sierra Leone, Jacob Jusu Saffa said at the ceremony "the construction of the state-of-the-art data center in Freetown is a huge milestone forward in Sierra Leone's technological advancement."
The announcement of construction comes after a press release last year, stating that "In a visit to Freetown, Africell Group's Chief Investment Officer announced that 2021/22 will see the company's biggest ever network expansion in Sierra Leone, with substantial investment being made in the rollout of new sites and upgrade of existing sites, bringing wider and faster coverage to millions of Sierra Leoneans." Further details of what this expansion would look like were not mentioned.
It is not only in Sierra Leone that Africell is expanding. In October 2021, DCD reported that the company had opened a new facility in Angola.