Galaxy Backbone (GBB), a Nigerian IT service provider, has completed the construction of its second data center and is ready to launch.
The new data center is based in Kano, Nigeria, and will serve as a backup for the National Shared Services Center, an Uptime-certified Tier III facility in Abuja. The facility has been named the Data Recovery and Business Continuity center and meets the standards for a Tier IV facility, and will have a capacity of ~0.7 petabytes.
Galaxy Backbone was set up by the Nigerian Federal Government in 2006 as an LLC for public and private use in Nigeria and has been running the country's only Tier III data center dedicated to the public sector space for the last seven to eight years.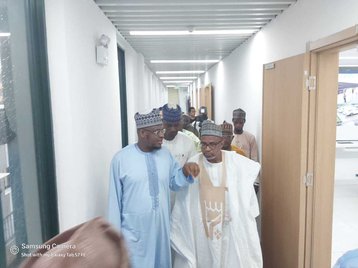 The new facility, built by the Federal Government, will also provide Cloud and Disaster Recovery services, and has a storage capacity of approximately 2.2 petabytes.
Following the successful commencement of the second phase of the e-Government Masterplan, Building Foundations for Digital Governance in Nigeria (2022 – 2026), GBB has also ventured into the private sector to further create social impact as well as outreach to businesses and individuals in the country
GBB's CEO, Professor Muhammad Bello Abubakar, says that the company is not in competition with other service providers in the nation. "Our goal is to collaborate with other private sector ICT companies to enhance digital transformation in Nigeria. So, I invite all of us, to leverage this Tier IV data center for the collective benefit of our customers and stakeholders".
GBB also has a significant Fiber Optics Backbone Network that spans over 2,500km, as well as the Abuja Metro Fiber Network with a reach of 1,500km. The company is further attempting to improve connectivity in the nation, according to Abubakar: "GBB has several LTE Base Stations to deepen its connectivity reach via wireless technology. We have 18 Base Stations currently operational in Abuja, Bwari, Zuba, Lafiya, Enugu, Owerri, Kano, and Kaduna. The installation of 30 Base Stations currently ongoing across the country."
In 2020 the Honourable Minister of Communications and Digital Economy for Nigeria, Professor Isa Ali Ibrahim Pantami, put together the National Digital Economy Policy and Strategy for the coming decade which aimed to drive Nigeria towards digital transformation. GBB's new data center has been inspected by Pantami.
More in Construction & Site Selection