An agriculture-focused Edge data center has been deployed in Queensland, Australia, after receiving a government grant.
Australia's Department of Infrastructure, Transport, Regional Development, and Communications this week said that the first round of its AU$117.9 million (US$88.6m) Regional Connectivity Program had seen its projects completed.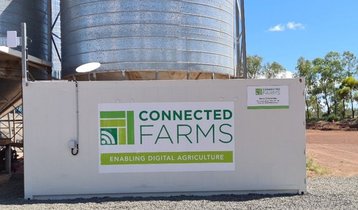 "ACE Internet Services in NSW and Connected Farms in Roma, Queensland are the first Regional Connectivity Program grantees to have projects reach completion after they secured funding under Round 1," the department said in its press release.
The Regional Connectivity Program aims to improve Australia's economic security, equity, and growth by increasing access to key communications infrastructure in regional communities. More than 130 projects have been funded through Round 1 of the Program, with all projects expected to be completed by mid-2023.
As part of the program, Connected Farms Pty Ltd is deploying an Edge data center in the Queensland town of Roma to provide improved data management for agribusinesses in the region. The facility is to be deployed alongside a new fixed wireless network for a total of AU$541,000 (US$406,000).
"This provides a significant uplift to connectivity in an agricultural area, enabling increased uptake of agtech and decision farming with benefits for productivity. The data center will also employ locally recruited and trained personnel," said the funding report.
Founded in 2019, Terranora-based Connected Farms provides remote connectivity solutions and Agritech solutions for farmers.
"Connected Farms are delighted to announce the completion and commissioning of our Edge Datacentre & Fixed Wireless Network in Roma," the company said this week. "This project was completed well ahead of schedule and is one of the first Regional Connectivity Program projects delivered. "
The company also recently said it has engaged SpaceX for a commercial pilot of Starlink's Mobile Backhaul services and will install equipment in early 2022.
The funding report also notes that Telstra won more than 30 grant allocations for small cell base station deployments in Aboriginal communities, as well as a number of new macro towers and tower & equipment upgrades across Australia.
Australian Private Networks and Comscentre also won several grants to deploy satellite Wi-Fi and VoIP telephone solutions to Aboriginal communities in Western Australia.
NBN Co. won more than 20 grants for fiber to the premises projects across Australia. Field Solutions Group, Wi-Sky, QCN Fibre, Ace Internet Service also won grants for a number of fixed wireless projects.
Other projects granted funding include CiFi expanding its existing fixed wireless network on Christmas Island, Dreamtilt Pty Ltd deploying a fixed wireless network at the new Benaraby Motorplex, and Fortytwo24 deploying an optical fiber extension to the Greenhill Observatory operated by the University of Tasmania.
TasmaNet also won a grant to upgrade the existing communications network servicing the Warra Ecosystem Observatory in southern Tasmania.
Round 2 of the RCP is providing up to an additional AU$112 million. Applications for RCP Round 2 funding are now closed and are currently being assessed.