American load bank specialist ComRent has launched a new device designed for testing and commissioning of data centers, as well as small wind or solar farms.
The K675 supports multiple three-phase rated voltages and features dynamic safety controls that prevent overloads to the power source in the event of a utility outage, by immediately removing load and reducing risk of damaging equipment.
Test for victory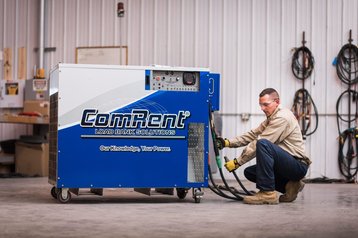 Load banks are essentially large electric furnaces that fit inside an empty rack, mimicking the power use and heat output of a stack of servers in order to test power and cooling systems.
Most load banks are rented, not bought, since they are usually required for short periods of time. For this reason, ComRent maintains a fleet of 3,210 units, which were used to carry out more than 75,000 successful load bank tests.
The company describes K675 as a "feature-rich" load bank that can be deployed in extreme climates and sub-zero temperatures, feeling equally comfortable indoors and outdoors.
The K675 is Wye configured – meaning all the loads in the system are connected at a single point. It can be used at 480 or 600V AC 60Hz and between 50-400Hz when externally powered, supporting various testing applications in a wide range of countries.
"ComRent's approach to world-class solutions and services involves expanding our fleet to meet the growing needs of the data center and alternative energy grid emulation markets," said Doug May, ComRent president and CEO.
"By expanding our fleet, customers receive load banks faster and can confidently rely on ComRent's exceptional service and industry knowledge to do testing right the first time."