Dallas-based developer Compass Datacenters has acquired two edge data center startups, EdgePoint and BitBox USA, for an undisclosed sum.
EdgePoint designs, manufactures and operates edge facilities, and BitBox offers a management and monitoring platform designed specifically for edge computing. Compass bought both companies from a single owner.
Betting on the edge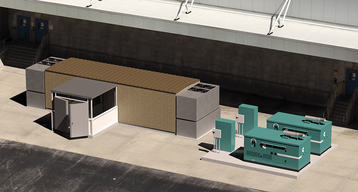 Following the acquisition, Compass is introducing its own product range, Compass EdgePoint, a product  which it will sell ready for deployment, fully fitted with IT, power and cooling equipment.
Bitbox USA, however, will continue to operate under the same name as it did prior the merger, serving as the basis for Compass' deployment of an edge facility management platform.
The acquisition is a bet on Compass' part that the data center industry is set to shift away from a purely centralized model with the introduction of distributed infrastructure; predicting that as IoT, autonomous vehicles and virtual reality get bigger, providers must change their practices and reflect the need for processing power closer to the consumer.
Chris Crosby, Compass Datacenters CEO, said: "This is an exciting time for the data center industry because the definition of a data center is changing so dramatically. It wasn't that long ago that the only model for a corporate data center was a monolithic, end-user-built structure that was inflexible, capital-intensive and inefficient in a hundred ways.
"Data centers have evolved significantly since then and need to be much closer to end users. Our acquisition of EdgePoint and BitBox put Compass at the forefront of where data centers are needed now,"
He added: "These are strategic investments for Compass that enable us to offer a broader range of mission critical solutions to customers to match their specific needs from the core of their IT infrastructure all the way out to the extreme edge, no matter how a customer defines the edge and where it resides."
However the company has not given up on centralized infrastructure, with facilities in Northern Virginia, Phoenix, Dallas and Nashville, and recently submitted plans to build a 760,000 square foot (70,600 sq m) data center in Loudoun in November - for which the company was given the all clear by county supervisors last month.