Costa Rican IT firm Codisa has broken ground on a new data center in El Salvador.
Codisa has partnered with real estate firm Aristos Group to develop its facility in Costa Rica, which will hold 322 racks and have a total capacity of 3.5MW.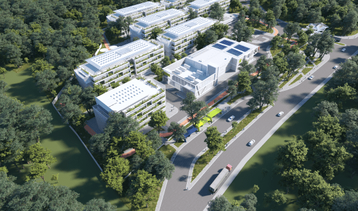 The DataTrust facility is located in the Altius Tech Park in Ciudad Arce, La Libertad; the companies said they are investing $30 million in the project, which is due to come online in Q4 2022.
The data center will be the first colocation facility in the county to be certified by Uptime; Diego Cardoza, General Manager of Grupo Codisa, has told DCD it will be the largest facility in the country.
The Altius park will have eight office buildings and a data center for a total of 46,000 sqm (495,000 sq ft) of leasable area. All of the buildings on the site will be powered by a solar farm located at the technology park.
"DataTrust arrives in El Salvador as the first and only commercial Data Center in the country certified Tier III by the Uptime Institute, as a joint investment between Grupo Aristos from El Salvador and Grupo Codisa from Costa Rica," said Cardoza. "Likewise, DataTrust will be the largest data center in El Salvador and has the largest storage capacity and physical space allocated for this type of services in the country."
"The construction of the Data Trust is a sample and an example that El Salvador is worth investing in," added President Nayib Bukele.
Founded in the early 1990s as a software firm, today Codisa operates three data centers in in Tibás, outside San Jose, Costa Rica, which opened in 2009, and 2014, and 2018.
DCD Spain has interviewed Diego Cardoza, General Manager of Grupo Codisa. Click here to read it.
More in Construction & Site Selection