Chinese insurance group Ping An has launched a new enterprise data center it said is leading the sector in green credentials.
Ping An Insurance (Group) Company of China, Ltd. this week announced that its new Ping An Guanlan Data Center No. 3 has "set a benchmark" for financial data centers in mainland China, and is the first such facility to reach a Power Usage Effectiveness (PUE) lower than 1.25.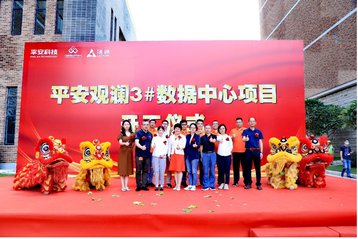 Construction of the Ping An Guanlan Data Center No. 3 began in Shenzhen in July 2021. Its PUE measures 1.2479.
The center covers 5,653 square meters (60,800 sq ft) of land with a total construction area of 33,288 sq m (358,300 sq ft). Catering to the Group's needs in the next five years, it will process data from the Group's subsidiaries covering the core financial services, including insurance, banking services, securities, and more.
The company said the facility features "numerous energy-saving technologies" for electric supply, heating and ventilation, and electrical automation, as well as "innovation in site layout and effective construction management," but didn't expand further. Previous reports suggest the facility uses indirect evaporative cooling
Launched in Shenzhen in 1988, Ping An is one of the largest financial groups in China. The company aims to achieve operational carbon neutrality by 2030. It is unclear how many other data centers the company operates in total.
Ping An has previously invested in GDS data centers and Global Switch. The company also operates its own financial sector-focused cloud company, Ping An Cloud, which launched in 2018.
While the PUE of Ping An's new facility may be a sector low, other operators in the country have bettered it. Alibaba has said some of its Chinese facilities have reached PUEs as low as 1.09, while Huawei sells a modular pod capable of a 1.111 PUE.