China Telecom Global (CTG) and Sunevision have landed a new subsea cable at a cable landing station (CLS) in Hong Kong.
The Chinese telco and Hong Kong-based data center firm announced this week that the Asia Direct Cable (ADC) has officially landed its Hong Kong segment at Sunevision's HKIS-1 CLS located in Chung Hom Kok.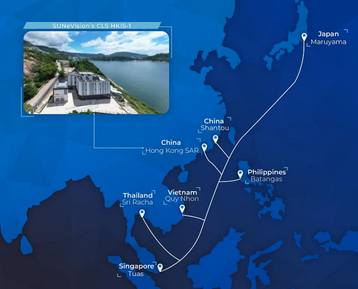 The 9,400-kilometer cable runs from Singapore to Japan via Thailand, Indonesia, Vietnam, Hong Kong, and mainland China. The cable offers 140Tbps of capacity across eight fiber pairs.
The cable landing also included a new city Point-of-Presence (PoP) at SUNeVision's MEGA Plus data center.
Xiaolei Wu, Executive Vice President of CTG said: "As a world-leading provider of integrated telecommunication services, China Telecom Global is thrilled to collaborate with SUNeVision and a group of renowned telecom service providers in the expansion of Asia Direct Cable to HKIS-1. The synergy produced from joint efforts across the region offers a safe and reliable network gateway for Hong Kong businesses, empowering IT leaders to confidently embark on a successful digital transformation."
Raymond Tong, CEO of SUNeVision, added: "Hong Kong maintains as a strategic connectivity hub intersecting with international submarine cable system and domestic land cables in mainland China. Landing ADC Hong Kong segment at the only carrier and cloud-neutral cable landing station in Hong Kong, Sunevisions's HKIS-1, plus a new city PoP at MEGA Plus, would provide unique neutrality and true connectivity advantages that no other facilities in the region can."
The ADC is being built and operated by a global consortium comprising CAT (merged with TOT to form National Telecom), China Telecom, China Unicom, PLDT, Singtel, SoftBank Corp., Tata Communications, and Viettel. NEC is developing the cable.
SUNeVision Holdings Limited is the technology arm of Sun Hung Kai Properties and the largest data center firm in Hong Kong. Last year it acquired land for a second CLS in Hong Kong.