(Update: The data center's Uptime Institute's Tier III TCDD status can now be found on Uptime's website and the article has been amended to reflect that.)
China Mobile International (CMI), a fully owned subsidiary of China Mobile, launched its Singapore data center this week, after breaking ground just over a year ago.
The data center is CMI's second data center outside of China, with the first one located in Tseung Kwan O industrial estate, Hong Kong.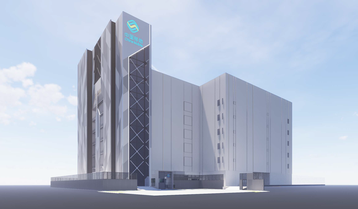 Next stop, Europe
The six-story data center is located at Tai Seng Industrial Park in the eastern part of Singapore, and houses more than 2,100 racks with a gross area of 17,490 sq m (188,300 sq ft). The facility is designed in accordance to Uptime Institute's Tier III TCDD and TCCF standards.
The greenfield facility is backed by a modular uninterrupted power supply in 2N configuration with 15 minutes of power, which is backed up by N+1 diesel generators. It has adequate fuel storage for 24 hours under full load.
The new data center has been awarded the IMDA-BCA's Green Mark Platinum certification, the highest available.
The facility connects directly to CMI's local ring in Singapore and Asia Pacific submarine systems such as the SJC, APG and SJC2, as well as to SMW5 that bridges Europe with Asia - China Mobile owns parts of these submarine cable systems.
Dr Li Feng, the chairman and CEO of CMI, says the company is also in the midst of deploying data centers in London and Frankfurt. The Singapore data center will serve as a key "Belt and Road" node for bridging the organization's high-speed international connections to these locations.
"The launch of our IDC in Singapore is a significant step forward to bring together our global IDC network. Through extensive submarine cable resources, our Singapore IDC will meet the demands of our customers in Asia Pacific by providing low-latency and reliable services," Dr Li said.