Chinese data center company Chayora has added three new hires to its executive team.
Tiger Zhou will become Chayora's new operations director, Mark Froelich its program director, and Lee Heng Aik Chuen its technical director.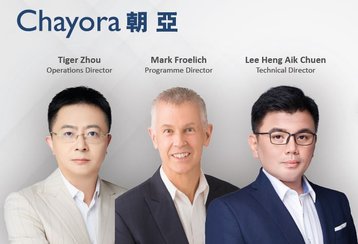 Bolstering the team
Zhou has held roles at AWS China, Microsoft China, Cisco, and Ericsson. He has 10 years of experience working on AWS data centers and involved in data center projects in Beijing, Ningxia, and Hong Kong.
Froelich is a 20-year veteran in the industry with experience across the US, APAC, and the EU. Before his new role, Froelich was senior director for Universal Creative, designing high-tech theme parks in Beijing, as well as holding senior positions with Google and AWS.
Chuen has over 20 years of experience in data center design and project management. Chuen previously worked with ST Telemedia and Digital Realty.
Jonathan Berney, co-founder and COO, Chayora added: "Chayora's first data center in Tianjin, Greater Beijing has recently been completed and we are delighted to expand our team with these industry leaders of international pedigree."
"Delivering excellent services for our clients to world-class standards is our absolute priority and the experience of our team is critical in enabling this. We look forward to Tiger, Mark, and AC strengthening our existing leadership team and progressing the next phases of our Tianjin hyperscale campus along with our imminent Shanghai data center facility which we will be announcing shortly to meet known customer needs."
Chayora is majority-owned by Actis Asia Real Estate Fund, after the company took a 63 percent stake for $180m back in October 2019.
Established in 2011 to build data centers across China, Chayora mainly works for customers from the US and Europe. Its core business is to develop and operate large-scale, built-to-order data centers for individual clients on five to 15-year contracts.
The firm is registered in the Cayman Islands and headquartered in Hong Kong, but most of its executive team hails from the UK.