Cerebras Systems has announced that French company TotalEnergies will be using its Cerebras CS-2 system to assist with their energy research.
The supercomputer is equipped with 850,000 cores, and has a memory bandwidth of 20 petabytes per second. The company said this is the first publicly announced deployment of the CS-2 in the energy sector.
Dr. Vincent Saubestra, CEO and President of TotalEnergies Research & Technology USA said: "TotalEnergies' roadmap is crystal clear: more energy, less emissions. To achieve this, we need to combine our strengths with those who enable us to go faster, higher, and stronger. Cerebras Systems offers one of the highest performance AI accelerators. We count on the CS-2 system to boost our multi-energy research and give our research 'athletes' that extra competitive advantage."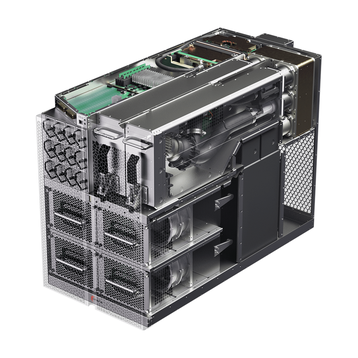 Andrew Feldman, CEO and co-founder of Cerebras Systems said: "The energy sector has a long history of leading the way in using compute to generate insight. AI and AI's integration with simulation can accelerate TotalEnergies' mission to deliver affordable, cleaner, and more reliable access to energy.
Cerebras said the CS-2 will enable TotalEnergies to simulate solutions for issues with batteries, biofuels, wind flows, drillings, and CO2 storage 'significantly faster' than they are currently able to.
The two companies' engineers, using the Cerebras Software Language (CSL), recently wrote a code that gave them a 100x improvement on a finite-difference benchmark for seismic modeling vs traditional architectures.
Cebebras offers the world's largest computer chip. The Wafer Scale Engine 2 is a huge semiconductor boasting 2.6 trillion transistors. Built on TSMC 7nm, it has 850,000 'AI optimized' cores, 40GB of on-chip SRAM memory, 20 petabytes of memory bandwidth, and 220 petabits of aggregate fabric bandwidth. The WSE-2 chip is sold packaged the Cerebras CS-2, a 15U box that also includes HPE's SuperDome Flex.
In November the company raised $250 million, valuing it at $4 billion.
Total has previously tapped IBM for its supercomputing needs; the 31.7 petaflops Pangea III was described as the world's most powerful commercial supercomputer upon its announcement in 2019.