Chinese telecoms giant Huawei has announced plans for 15 new labs where it will works with partners including Germany's SAP on areas such as cloud computing, smart cities, and the Internet of Things
The new facilities, called OpenLabs, were announced at Huawei's keynote conference at the giant CeBIT trade show in Hanover, Germany. They follow five existing OpenLabs.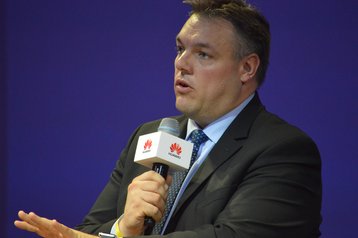 Open to Huawei partners
"Two years ago, we started building the first five OpenLabs in Suzhou, Dubai, Munich, Singapore and Mexico City," Vincent Pang, president of Huawei's Western European region, said.
"And we decided today that we will build more. We would like to work more and more with different friends and partners from different verticals."
Huawei plans to open seven new labs in its first phase, including in London, UK; Paris, France; Moscow, Russia; and Johannesburg, South Africa. By 2019, it aims to open another eight, for a total investment of $200 million.
"We believe that the ecosystem is evolving," Victor Yu, president of industry marketing and solution group, Huawei enterprise business group, said.
"In the past, Huawei developed by itself. Then we turned to resellers. But now more and more software providers, hardware providers, system integrators, research organizations and even customers - all of these players are working together as a group.
"We are working together to provide a solution for the future."
One such partner is SAP, Rolf Schumann, SVP global general manager platform and innovation at SAP Cloud Platform, said: "Since 2012, SAP and Huawei have established a strategic alliance, which is based on our complementary software and hardware, and we have cooperated to develop SAP HANA joint solutions.
"SAP believes that these OpenLabs can accelerate cooperation with Huawei in various fields, including Industry 4.0, Advanced Metering Infrastructure, IoT, Big Data, and B2B cloud."
Umashankar Lakshmipathy, SVP of another partner, Infosys, added: "We have cooperated extensively with Huawei in finance, the IoT and cloud data center solutions.
"Huawei's OpenLab in Suzhou provides partners with a leading ICT platform that enables joint innovation of banking and smart stadium solutions. We hope that our joint innovations with Huawei can be expanded to the entire world through Huawei's OpenLabs in other regions, such as South Asia and the Middle East."
The Huawei OpenLab program is unrelated to CSsquared's Open Lab in London, which is focused on helping companies evaluate open source options.