Real estate investment trust Carter Validus Mission Critical REIT II has acquired the 250 Williams Atlanta Data Center in Georgia for $166 million.
Known as the American Cancer Society Center building, the facility has around one million square feet (92,903 sq m) of office and data center space. In 2013, the site had 130,000 sq ft (12,077 sq m) of technical space, and tenants including data center services provider Internap and about 30 carriers.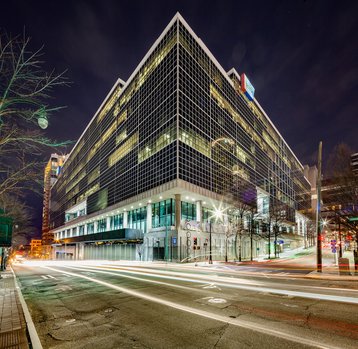 Existing tenants
The nine-story data center is currently 87.8 percent leased to 12 tenants, including the Global Headquarters of the American Cancer Society.  Each floor can support data center loads and the ceiling heights in the building are 14 feet or more.
The property is located close to CVMC REIT's Peachtree facility and Colo Properties Atlanta's 56 Marietta Street data center.
"Our expertise as a trusted real estate buyer led us to this unique opportunity and we could not be more thrilled to be the new owners of 250 Williams. From its credible tenant mix to its plethora of value-add opportunities, we are excited for the value we believe this property brings to our portfolio," John E. Carter, CEO of CVMC REIT II, said.
Michael A. Seton, President of CVMC REIT II, added: "This acquisition expands our presence in the Southeast and contributes to our portfolio's diversity by tenancy and geography; we look forward to working with the tenants at 250 Williams."
Carter Validus has been on an acquisition streak as of late, this year buying a Charlotte data center for $16.4 million, Connecticut's largest data center for $58.9m (along with several healthcare properties), and data centers in Chicago, Massachusetts and Arizona for a combined total of $86.1m.