Singaporean real estate group CapitaLand has acquired its first data centers in China.
The company bought the campus, located in Minhang District, Shanghai for RMB3.66 billion ($564.5 million).
The campus has four buildings with a gross floor area of up to 75,000 square meters (807,000 sq ft) and up to 55MW of capacity. It currently serves two of China's largest telecommunications companies.
"5G, artificial intelligence and big data are driving the growth of the digital economy and creating strong demand for data centers. Data centers are a growing new economy asset class and represent a global investment opportunity and a key strategic business focus for CapitaLand," said He Jihong, CEO of data center, and chief corporate strategy officer, CapitaLand Group.
For more breaking data center news, features, and opinions, be sure to subscribe to DCD's newsletter
CapitaLand wants more land in China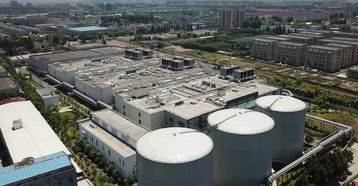 The campus was acquired from AVIC Trust, an investment arm of Shanghai-listed AVIC Capital, and from an unrelated third-party vendor. The acquisition is expected to be completed by Q3 2021. The company says it has further plans to expand into China's data center market.
"CapitaLand's entry into the data center market in China will further diversify our portfolio across asset classes and build more operating capabilities. This is in line with the Group's strategy to pivot into new economy assets in the country," added Puah Tze Shyang, CEO, investment and portfolio management, CapitaLand China.
"We see strong potential to expand our data center portfolio in cities such as Shanghai, Beijing, Shenzhen and leverage our growing base of new economy assets to bolster our fund management business in tandem. We may also look for opportunities to take strategic positions in data center operating platforms to accelerate our growth in a key market like China. CapitaLand has the resources and reach to help these platforms grow their presence in other parts of Asia. We will continue to look for new investments that stand to benefit from China's economic transformation."
In Europe, CapitaLand's business space and industrial REIT, Ascendas Real Estate Investment Trust, recently acquired 11 data centers.