The African island of Cape Verde (Cabo Verde) has received a loan to develop two new data centers.
The African Development Bank (ADB) and the government of Cabo Verde this week announced they have signed a €14 million ($15.3m) loan agreement to enhance the Cabo Verde Technology Park.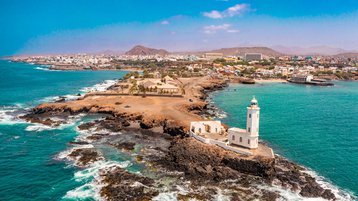 The ADB previously provided a loan of €31.59 million to finance the first phase of the technology park, which comprises two campuses: one in the capital city of Praia, and the second on the island of São Vicente.
With phase two, the hub will be equipped to run on renewable energy and, as part of a public-private partnership, furnished with two data centers.
Further details about the data centers weren't shared.
Cabo Verde's Deputy Prime Minister and Finance Minister, Olavo Avelino Garcia Correia, signed the loan agreement. He said: "Our ambition is to transform Cabo Verde into a digital nation, with a circulating economy and the technology parks in Praia being part of this significant government strategy."
Abdu Mukhtar, African Development Bank director for industrial & trade development, said: "The next generation of African talents need not seek opportunities abroad; Cabo Verde possesses the necessary infrastructure and a supportive political system to cultivate their dreams and ambitions within their homeland."
The Cabo Verde Technology Park, based in Praia, Cape Verde, is located less than 2km away from the current NOSi data center, another facility backed by the African Development Bank. The park will cover 8 hectares of land and has been estimated to cost $36.5 million.
The technology park in Praia includes an existing data center. The Cabo Verde Tech Park website says a second is planned in the Praia campus with a disaster recovery site set to be established on the São Vicente site.
Cape Verde is a collection of ten islands in the central Atlantic Ocean more than 300 miles off the west coast of mainland Africa.