The Camro Data Park in Cambridgeshire has secured new funding to create a new data center park.
Privately owned property investment company Topland Group this week announced it has agreed to refinance Camro Data Park on behalf of owners Lasercharm through a £9.25 million ($11.3m), two-year facility from its structured finance division.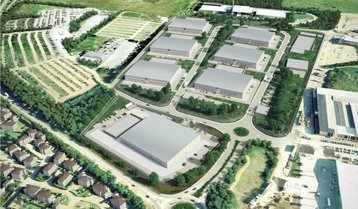 Lasercharm will now seek detailed consent before marketing the site to a specialist developer, occupier-developer, or cloud service provider during the term of this new loan.
Located within the Elean Business Park next to Sutton in Cambridgeshire, the 43-acre Camro site has planning permission for 65,000 sqm (700,000 sq ft) across a number of data center buildings.
Anish Vora of Topland Group said: "Camro Data Park has the potential to become one of the largest data center sites in the UK. It's got an exciting future, and we are pleased to have helped bring it one step closer through our senior facility. This is another example of our ability to provide funding across all real estate asset classes."
Topland Group said it has further additional capital to deploy in the data center land acquisition and development markets.
Philip Kay, senior asset finance advisor at Arc and Co., added: "I'm delighted to have worked with Topland on this transaction. Their approach was commercial and methodical and I'm excited to follow the partnership with Lasercharm over the next couple of years."
The deal was arranged by Philip Kay at Arc and Co. Lawyers Andrew Parsons and Nick Simpson at Osborne Clarke advised Topland Group.
Previously known as the Elean Data Campus, property developer Lasercharm first filed a planning application with East Cambridgeshire District Council (ECDC) back in 2007. The last previous update from the park was in 2017, though the developer has recently launched a new website for the development. Currently, plans suggest up to four data center buildings; two two-story facilities each spanning 14,320 sqm, and two single-story facilities offering 7,970 sqm.
Prior to Lasercharm's involvement, planning permission was originally granted on the site in August 2003 to previous owners for a 2.2 million square feet data center.
Previous iterations of the plans proposed up to six two-story buildings on the site offering up to 72MW. 5Nines was also previously part of the project around 2009 and prior to it being acquired by Serverfarm in 2019.
The campus is on land formerly a part of Mepal Airfield, a Second World War airbase, latterly as a Thor ICBM base in the 1960s.
The site is also neighboring the 38MW Elean a straw-fired biomass power station. The park's on-site substation is supplied from Sutton Power Station to the north and from Histon grid to the south, but notes there is planning permission for an on-site energy center and up to 10MW solar array and battery storage.
David Adams of Adams Group Real Estate said the site had recently gained permission for a 'new configuration.' He told DCD there is an additional 50-acre site adjacent to the advertised park, meaning there is potential for up to 90 acres of data centers on the site, but only the first 40-acres currently have planning permission. DataQube has reached out to DCD to inform us the company is working with Lasercharm and is the team lead on the project.