BT Group has signed a Virtual Power Purchase Agreement (VPPA) with German renewable energy company BayWa r.e. AG to procure energy from an onshore wind farm in Scotland.
Under the terms of the PPA, BT will purchase 80 percent of the output of the Dalquhandy onshore wind farm in South Lanarkshire – approximately 90 GWh/year – along with the associated Renewable Energy Guarantees of Origin (REGOs), at a fixed price for 10 years.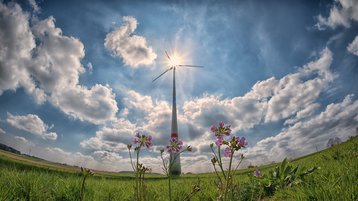 John Milligan, Managing Director UK and Ireland at BayWa r.e., said: "Through this corporate VPPA, BT Group has secured a long-term source of renewable energy in an increasingly volatile energy market. This represents an excellent outcome for the Dalquhandy project with a reputable long-term offtake. We are pleased to help BT Group meet their renewable electricity commitments and look forward to bringing the site online towards the end of the year."
The 42MW Dalquhandy wind farm is being developed by BayWa r.e. UK. Currently under construction and expected to be commissioned in Q4 2022, the project comprises 10 Vestas V136 wind turbines, located at the former open cast coal mine near Coalburn, South Lanarkshire.
Cyril Pourrat, Chief Procurement Officer at BT Group said: "As one of the largest private purchasers of electricity in the UK, today's announcement underpins our commitment to use 100 percent renewable electricity worldwide where markets allow and sends a clear signal to the market that renewable energy is a key enabler to reach net zero by 2050 in the UK."
Founded in 2009, and jointly owned by BayWa AG and Energy Infrastructure Partners BayWa r.e. manages around 10GW of wind and solar assets. This is the second corporate PPA between the two companies, after previously signing one of the first corporate PPAs in the UK, in 2014, for the output of the 30MW Stroupster Wind Farm in the Scottish Highlands.
Last year BT signed a three-year renewable energy deal with Total covering almost half of BT's total annual electricity consumption in the country.
A recent report from LevelTen Energy said that solar and wind PPA prices in Europe and the US are increasing, driven by supply chain issues, inflation, and the war in Ukraine. Bloomberg notes new PPAs in Europe are lagging this year as a result.