Telecom operator BSO has acquired UK-based network carrier services firm IX Reach for an undisclosed sum.
BSO said that this acquisition makes the company the largest privately-owned telecom operator in the world with more than 330 points of presence globally.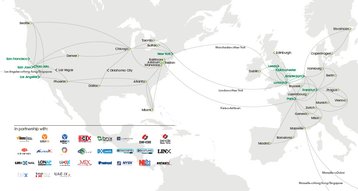 Tremendous telcos
This is the third acquisition in 18 months for London-based BSO and follows the procurement of Apsara Networks, a supplier of radio frequency connectivity to financial markets, and PROceau, a managed hosting and IaaS company.
KPMG, Locke Lord and Crowe advised the acquisition and the terms of the deal have not been released.
BSO's network includes 103 data centers in 23 countries. The company mainly provides Ethernet, cloud and hosting services to financial institutions and trading firms.
Greater Manchester-based IX Reach has a customer base of more than 300 carriers, ISPs and content providers.
Stephen Wilcox, president and founder of IX Reach, said: "This is a great move for IX Reach that secures long term investment for us, and I'm delighted to be working with BSO who have been our friends and partner for over a decade and am excited to be a part of their team."
Simon Vye, CEO of IX Reach, said: "The complementary link up between our companies accelerates revenue growth, significantly improves our combined profitability and most importantly allows us to continue investing rapidly in our products and services so we can continue creating truly exceptional customer experiences."