Singapore-based semiconductor manufacturer Broadcom plans to relocate its home address to the United States.
The move could mean the company will not be subjected to scrutiny by the Committee on Foreign Investment in the United States (CFIUS), which has delayed Broadcom's acquisition of Brocade.
With one acquisition barrier out of the way, the company plans to purchase chip giant Qualcomm. Broadcom has made an unsolicited bid to buy its rival for $105 billion plus $25bn of debt, in what would constitute the largest-ever technology deal.
Take me home to the place I was incorporated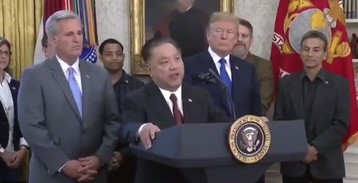 While Broadcom Corporation was originally a US fabless semiconductor company, it was acquired by Singapore-based Avago Technologies for $37bn in 2016, with the resulting entity operating as Broadcom Limited.
"Broadcom Limited is moving its headquarters from Singapore back to the United States," US President Trump said at an event to announce the move, held in the Oval Office of the White House.
"Broadcom Limited is a Fortune 100 company, one of the really great, great companies. They manufacture technology and parts. They employ over 7,500 American workers in many states across our country, we're looking forward to seeing that number grow very substantially, which they're now anticipated to do. Their move back to the United States and to the United States [sic] is something very, very special and very important."
Broadcom CEO Hock Tan added: "We are announcing that we are making America home again."
The move - which requires shareholder approval - was timed with the reveal of congressional Republicans' tax reform proposal, which includes huge cuts to corporate tax rates (down from 35 percent to 20) and makes it easier for corporations to deduct foreign taxes.
"America is once again the best place to lead a business with a global footprint. Thanks to you Mr President, business conditions have steadily improved," Tan told Trump.
"The proposed tax reform package will level the global playing field and allow us to compete effectively in worldwide markets."
With the Tax Cuts and Jobs Act facing stiff opposition, it's not a certainty that the new tax regime will be approved, but Broadcom confirmed that it will move to the US, no matter the outcome.
"Our move to domicile in the US will bring in $20bn of annual revenues into this country, okay? From this base here in the United States, each year we will invest over $3bn, in research and engineering and another $6bn a year in manufacturing, creating high paying tech jobs similar," Tan said, although its not clear where the figures came from, with Broadcom's annual global sales totaling $13.2bn in the fiscal year ending October 30, 2016.
One reason for the shift in domicile status is that it would allow the company to avoid the CFIUS review process, which investigates proposed acquisitions of US companies by foreign entities, if they raise concerns over national security or intellectual property issues. Under Trump, CFIUS has been more aggressive, delaying and blocking deals like the purchase of Lattice Semiconductor by Chinese-backed Canyon Bridge.
As we discussed in detail last month, CFIUS has repeatedly delayed Broadcom's planned $5.9 billion acquisition of networking company Brocade. With Broadcom based in the US, CFIUS will no longer be involved in policing its operations, the company hopes.
Cool qualculations
Tan has expanded Broadcom, née Avago, through an aggressive acquisition strategy, including purchasing semiconductor and software company LSI in 2013 for $6.6bn, and networking company Emulex for $600m.
His next target is a lot larger.
Broadcom has announced plans to purchase Qualcomm for $70.00 a share in cash and stock - in a deal totaling $130bn, including debt.
"Broadcom's proposal is compelling for stockholders and stakeholders in both companies. Our proposal provides Qualcomm stockholders with a substantial and immediate premium in cash for their shares, as well as the opportunity to participate in the upside potential of the combined company," Tan said.
"With greater scale and broader product diversification, the combined company will be positioned to deliver more advanced semiconductor solutions for our global customers and drive enhanced stockholder value."
While Qualcomm's share price has fallen steadily this year over a growing rift with Apple, one of its largest customers, the acquisition would mark yet another major consolidation in the semiconductor market, creating a combined company that would become the world's third largest chipmaker by revenue (after Samsung and Intel).
As part of the deal, Broadcom would also be willing to buy European semiconductor company NXP, which Qualcomm agreed to buy in 2016 for $38bn but was unable to, due to an ongoing antitrust investigation. NXP itself acquired US-based Freescale Semiconductor the year before, for $11.8bn.
Broadcom's domicile change may remove CFIUS from any discussions over a potential Qualcomm acquisition, although the company would still face the usual regulatory and antitrust hurdles.
Thomas Krause, Broadcom CFO, said: "Given the complementary nature of our products, we are confident that any regulatory requirements necessary to complete a combination with Qualcomm will be met in a timely manner. We look forward to engaging immediately in discussions with Qualcomm so that we can sign a definitive agreement and complete this transaction expeditiously."