A truck crash brought Breezeline customers offline in Maryland, Delaware, and Virginia.
The telecom operator said that the outage on the US East Coast lasted five hours.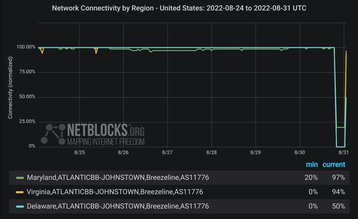 "We are aware of an outage affecting customers in MD, VA, & DE due to damage to our fiber facilities," Breezeline said at the time.
"Crews are working as quickly as possible to complete the necessary splicing repairs. We will share updates on when customers should expect services to be restored."
The company shared a video of the broken fiber cable.
The US division of Canadian telco Cogeco Communications, Breezeline used to be known as Atlantic Broadband but was rebranded this January.
Earlier this month, city officials in Cumberland held a City Hall meeting to discuss their dissatisfaction with the eighth largest cable operator in the US.
"It gets aggravating to try to talk to someone when you call," Councilman Eugene Frazier said, Cumberland Times-News reports. "You end up being on hold for an hour or more."