Boeing today announced two separate cloud contracts with Microsoft Azure and Google Cloud.
Last year, the two cloud companies and Amazon Web Services entered into competition for the aerospace giant's business, which is thought to be worth more than $1bn over several years. Update: AWS has also been awarded a part of the contract, more below.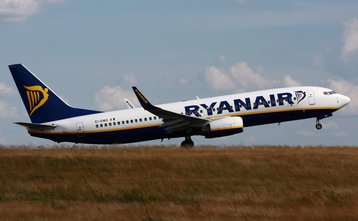 Boeing already used some Azure and AWS hosting, its own data centers, and some colocation space, but is seeking to modernize its IT footprint.
The company has more than 140,000 employees, and produces huge quantities of data. A Boeing 787 generates an average of 500GB of system data a flight, with an entire fleet amassing much more.
With Microsoft, Boeing said that it will use Microsoft Cloud and is AI to update its technology infrastructure and mission-critical applications.
"Today's announcement represents a significant investment in Boeing's digital future," Susan Doniz, Boeing CIO and SVP of Information Technology & Data Analytics, said in a canned statement.
"Our strategic partnership with Microsoft will help us realize our cloud strategy by removing infrastructure restraints, properly scaling to unlock innovation and further strengthening our commitment to sustainable operations," she added.
More detailed specifics and how much of Boeing's overall compute and storage load will be handled by Microsoft was not disclosed.
As for Google, Boeing plans to migrate hundreds of applications across multiple business groups and aerospace products to the search engine's cloud service.
"Today's announcement represents a significant investment in Boeing's digital future," Doniz said, again, in another prepared statement.
She added: "With Google Cloud's years of cloud leadership, data analytics, and AI/ML experience, we are looking forward to driving advanced digital aerospace solutions together."
Boeing will deploy apps and workloads in Google Cloud regions with the lowest carbon footprint.
"Boeing is a global aerospace icon, and we're proud to partner and apply the best of Google Cloud's capabilities, including AI, data analytics, and clean infrastructure," said Thomas Kurian, CEO of Google Cloud.
"We look forward to working together to transform Boeing's business and help them continue to build innovative aerospace services that help airlines run efficiently and in an environmentally friendly way."
Update: Boeing has now announced it has also partnered with AWS to migrate out of on-premises data centers. AWS will power new and existing Boeing digital applications on its cloud.
"Today's announcement represents a significant investment in Boeing's digital future," Doniz said a third time. "Our work with AWS will help us advance Boeing's people, products, and services by enabling everyone with the latest tools, technology, and expertise,"