Malta's BMIT, a provider of data center cloud and managed services, has opened a new €3million 146-rack data center in SmartCity - the hi-tech business park development in Malta. It has also launched a new secure private network to provide its customers with high-speed connectivity.
The new data center makes BMIT the largest data center provider on the Island.
The private network links BMIT's Maltese locations to its new points of presence in Italy and Germany. The private network produces speeds of 40 Gbps internet connectivity using the services of two leading Tier 1 global providers – Level 3 and TeliaSonera.
The new ISO 27001 data center is in the final stages of fitting-out. The entire installed infrastructure is currently being tested and BMIT hopes that its first customers will be moving into the new facility in the next few weeks.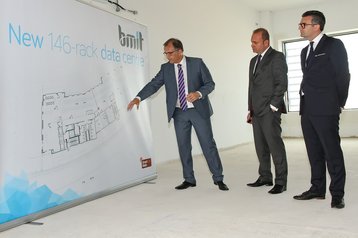 Crucial data center services  
At an on-site meeting when the data center was first outlined, BMIT CEO, Christian Sammut, said: "The data center is designed and will be operated to standards ensuring high availability of mission-critical data and applications in a secure environment for customers' servers and data."
The Hon. Dr Chris Cardona, Malta's Minister for the Economy, Investment and Small Business said at the launch: "The announcement of the investment by BMIT is not only an important announcement for the company but also for the business sector. The services provided by BMIT are crucial for any business operating within our islands. Such services allow the government to further entice other companies to invest in Malta, while providing existing companies with state of the art services."
BMIT claims that it is experiencing unprecedented interest in its services which also include on-premises services which are PCI DSS certified and delivered directly and through partners. This is no surprise since Malta has positioned itself as a jurisdiction of choice for many industries such as the online gaming and gambling industries and the financial services industry all of which benefit from the advantageous treatment and special location legislation which Malta specializes in.
 The data center was built by a team of Maltese and international companies whose identities have not been revealed.