Oil & gas company Black Mountain Energy is partnering with cryptomining firm Highwire to deploy flare-gas mining facilities at a fracking project in Australia.
In a notice posted to the ASX, Black Mountain said it had received a non-binding Letter of Intent from Highwire Energy Partners LLC to use well-testing gas that would otherwise be flared at the Valhalla fracking project in the Canning Basin of Western Australia, to power mobile cryptocurrency servers.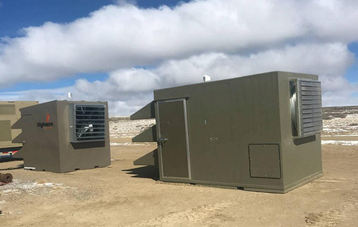 US-based Highwire reportedly intends to negotiate the purchase of up to 5 terajoules per day of gas and the installation of up to 25MW of generation to support its operations.
Speaking to the Market Herald, Black Mountain Energy CEO Rhett Bennett said: "Flaring natural gas certainly is not ESG [environment, social, and governance]-friendly. So the ability to utilize that gas for power and ultimately create a product, in this form crypto, is a much better solution."
The company noted that any binding agreement would be subject to due diligence as well as regulatory approvals.
Black Mountain is focused on drilling for gas in Western Australia's Canning Basin. Located in the Fitzroy Trough, west of Fitzroy River and about 2,500km from Perth, Project Valhalla has a permit area covering 3,662 square km. The company says the site contains 11.8 trillion cubic feet (TCF) of prospective gas resources and 1.5TCF of contingent gas resources.
Anti-fracking organization, Lock the Gate Alliance, said the idea was "the height of arrogance," "madness," and labeled the proposal a "parasitic project."
"The Kimberley is home to the largest area of intact tropical savanna in the world. It can't be put at risk for fracking, let alone Bitcoin mining," a spokesperson said. "If Bitcoin miners want to mine Bitcoin in Australia, they should be forced to use renewable energy — not climate crisis-inducing fracked gas."
Oil & gas extraction sites routinely waste natural gas, burning it off in "flares." These burn methane and release CO2, but they do it inefficiently, releasing a significant amount of methane, which is a greenhouse gas that is more potent than CO2 - albeit with a much shorter lifetime in the atmosphere.
As with the likes of Crusoe Energy, Earth Wind & Power (EWP), Bit River, EZ Blockchain, NGON, Giga Energy, and Validus Power, Highwire Energy aims to utilize stranded and oversupplied natural gas to mine cryptocurrency. These companies claim burning the gas for mining operations is more environmentally friendly – burning more efficiently to create more CO2, and preventing more methane from being released into the atmosphere.
Highwire uses proprietary containerized mining servers about 4m x 4m in size on well sites and powers them using a field generator run off the natural gas from that well. The company is already running similar operations in the state of Wyoming in partnership with Moser Energy Systems.
Elsewhere in Australia, Tasmania Data Infrastructure has recently announced plans to develop a cryptomine data at the Que River Mine Site in Tasmania. Operations are anticipated to commence in Q4 2022; launching with 5MW, the site has a potential expansion capacity 'in excess of 100MW.' The company is working with Mawson to procure and roll out the hardware and equipment housing.